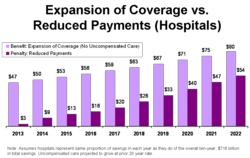 New York, NY (PRWEB) November 14, 2012
With the election behind us and President Obama's second-term win, the Affordable Care Act (ACA) is here to stay. In the months leading up to the election, there was a lot of conflicting and incomplete information circulated about the ACA, and specifically, the ensuing changes to Medicare. In the midst of all this, then-Presidential candidate Romney raised a key question during the first debate: will reduced Medicare reimbursement rates cause providers to start turning away Medicare beneficiaries?
ElderBranch, an online resource for long-term care and other issues affecting the elderly, analyzed the literature on this topic to help people make sense of the issues in its new report "Will the $716 billion Medicare Cut Hurt Beneficiaries?"
ElderBranch found that, with payment reductions and all else equal, some providers would likely stop accepting Medicare patients as reduced reimbursements would drive them to become unprofitable. If this were to happen, the $716 billion in savings would be in jeopardy.
However, the payment reductions will not take place in a vacuum. The individual mandate – which requires everyone to have insurance coverage – provides a substantial benefit to providers. The loss in revenue due to reduced payments will be far outweighed by the boost in revenue due to expanded patient coverage.
Therefore, ElderBranch's analysis suggests that the projected $716 billion in savings through 2022 is likely achievable because of the individual mandate. However, subjecting providers to unrealistic productivity improvements raises serious questions for what happens in 2023 and beyond.