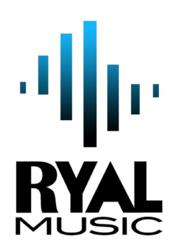 National (PRWEB) November 15, 2012
In the spring of 2012, Toronto-based indie record label RYAL Music burst onto the North American scene to provide a full-service home for talented independent musicians. With a focus on launching burgeoning talent onto the global stage, the new company is dedicated to the development, management and direct-to-consumer promotion of unique and exciting music artists by encouraging individuality, authenticity and true musical innovation.
"By signing only the best and most dedicated musicians who have a driving passion for their work, RYAL Music is creating a destination not only for our artists, but for their fans," says Wayne Bloomer, Director of A&R for RYAL's Dance Division and a prominent U.K. talent scout. "Our goal is to bring the two together with a cutting edge direct-to-consumer sales platform. This allows us to focus our resources on music artists, first and foremost, and deliver the highest quality work to the buying public."
Bloomer adds that RYAL's artist-friendly strategy is designed to forge long-term relationships with its roster—from the initial stages of songwriting and recording through imaging, music promotion and merchandising. "We are looking to make lifelong connections with our artists, so that they have a foundation of trust to grow, evolve, experiment and find their true voice," he says. "Such a strategy also bonds fans to the musicians and singers they love. It's truly a win-win for all music lovers."
RYAL's initial signing is Canadian singer/songwriter GALI, whose exotic and sensual looks, along with a robust vault of exciting pop/dance music, make her an idea launching pad for the music label. Her debut single "Dancing To Another Love Song," which is already making its mark in the U.K., was officially released on Halloween 2012.
The melodic and mysterious dance track is replete with touches of trance as it rises to a kaleidoscopic peak of soft, swirling synths, framed by GALI's tender vocals. The song is a collaboration between a global team of A-level writers and music producers, including Digital Dog, Hanski, Jamie M, Kris Shades and Norm Sabourin—who have commandeered hits for Cheryl Cole, Timbaland, Katy Perry, Britney Spears, Rihanna, Ciara, Pussycat Dolls, 50 Cent and Taio Cruz. Remixes of "Dancing To Another Love Song" by Digital Dog will be concurrently released.
Bloomer notes, "GALI is the perfect example of what we hope to accomplish at RYAL. We are excited to take chances with vital new performers, to experiment and present new concepts and new music to the world. With our investment in talent, combined with a contemporary industry strategy, we are looking forward to taking the world by storm."
About RYAL—RYAL Music is Canadian indie record label dedicated to the development, management and direct-to-consumer promotion of unique and exciting, recording artists by encouraging individuality, authenticity and true music innovation. As respected and well-connected industry professionals, the company partners with other like-minded pros to help independent musicians achieve artistic AND commercial success through long-term creative strategies and a distinctive global signature sound. For more information visit: http://ryalmusic.com/