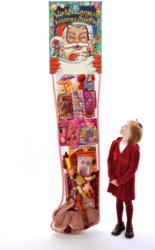 This year we decided to do our own holiday sweepstakes because we know everyone loves these huge stockings." - John Bagwell, Bagwell Promotions
Dallas, TX (PRWEB) November 18, 2012
Bagwell Promotions has announced that visitors to the Bagwell Promotions Facebook page can win the World's Largest Christmas Stocking. This 8' stocking comes stuffed with toys and will be a high point of the holiday season for the lucky winners.
John Bagwell explained that the sweepstakes is intended to thank all the great supporters of his company and to build traffic on his business Facebook page. The only requirement to enter is to go to the page, "Like" the company, and fill out the registration form.
"We have been providing this promotion for all kinds of retail establishments. Car dealers, furniture stores, check cashing stores, banks and credit unions, restaurants and rent-to-own stores have found that this prize is a great way to get more people into the store and increase the number of contacts. This year we decided to do our own holiday sweepstakes because we know everyone loves these huge stockings."
Sweepstakes are among the most cost-effective strategies for promoting a business. The prize can be relatively inexpensive for the company but very popular with the public. Unlike contests, sweepstakes do not require any skill to enter and so everyone has an equal chance to win. People are very enthusiastic about sweepstakes.
John Bagwell, President of Bagwell Promotions, expertly helps organizations to build sales. Along with promotional giveaways, he offers direct mail, print and broadcast advertising, public relations, sponsorships, and digital communications services to increase visibility and revenues of companies.
Jodi Eva, the Store Manager at Livingston's Ace Hardware in Montana has been hosting a Giant Christmas Stocking promotion for years. She says that, "There are only a few ways to generate excitement in the store around kids and the holidays. We have had coloring contests or decorating contests but we found that sweepstakes really drive store traffic. Now we use the same program for most holidays. We raffle off a Valentine Bear, an Easter Bunny, and patriotic bear for Independence Day too. We always post the pictures of the winners on our Facebook page."
Other companies and non-profits can find out more about having a sweepstakes using the World's Largest Christmas Stocking at the Bagwell Promotions website. The program includes the prize, posters, the entry box and entry forms along with suggestions for ways to advertise the sweepstakes.
About Bagwell Promotions :
For over 30 years, Bagwell Promotions has offered over 500,000 imprinted promotional products from 4,100 suppliers such as coffee mugs, pens, flashlights, magnets, ID bracelets, key chains and an assortment of apparel. Along with The World's Largest Christmas Stocking, for the holidays Bagwell Promotions provides Christmas ornaments, promotional calendars, and food gifts.
Contact:
John Bagwell
1-866-281-8830