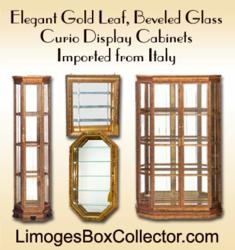 Italian gold-leaf curio cabinets are the ideal display cases for your collectibles. The mirrored back and beveled glass sides and doors illuminate and enhance the beauty of your collectibles and add elegance to your home décor.
Los Angeles, California (PRWEB) November 19, 2012
LimogesBoxCollector.com is proud to announce the availability of the magnificent gold-leaf Curio Cabinet Collection in various sizes. These outstanding Curio Cabinets are made in Italy and are available in various table-top sizes, wall-mount, mid-size and full size cabinets.
Just in time for the Holiday season, the stylish and elegant curio display cabinets will enhance any home or office décor and show off your Limoges boxes and other collectibles to their fullest. The beautiful mirrored cabinets create an illusion of larger space with their reflection and show off your cherished collectibles from every angle.
Collectors who look for the optimal way to display and showcase their Limoges box collection and other cherished collectibles, can now choose from a variety of elegant display case models and sizes to display their collectibles more effectively. Mirrored wall cabinets can be displayed in any room and offer the perfect size for collectible French Limoges boxes. Our various wall cabinets can also be displayed as table-top display cases by removing the glass shelves.
Elegant beveled glass sides and doors and museum quality picture frame solid wood construction of the Italian curio cabinet collection will add elegance and sophistication to any home or office décor. The full-size cabinets feature interior lighting to illuminate every object displayed inside.
For a limited time, LimogesBoxCollector.com offers free shipping for all display cabinets. Each curio display cabinet is delivered fully assembled. Shoppers can take advantage of the free fast shipping to decorate their home and showcase their favorite collectibles well in time for the Holidays.
As one of the largest retailers of French porcelain Limoges Boxes worldwide, LimogesBoxCollector.com offers an extensive selection of the highest quality French porcelain Limoges boxes at fantastic and competitive prices. The vast selection of Limoges boxes offers collectors and gift buyers Limoges boxes for every occasion and in numerous themes. From Birthday boxes to Christmas, Gardening, Food and Wine, Perfume Chests, Travel and Sports, collectors and gift-buyers can find Limoges boxes to satisfy every taste and budget. LimogesBoxCollector.com also offers a very large selection of retired, traditional and rare Limoges boxes. The website features the largest collection of the rare and retired Walt Disney character Limoges boxes by Artoria Limoges.
The Italian display cabinet collection is the perfect addition to the LimogesBoxCollector.com website as it offers the ideal display options for any size Limoges box collection. Limoges boxes are miniature art pieces that deserve to be showcased in elegant and impressive display cases to match the beauty and craftsmanship of the Limoges. The Italian display cases add elegance and radiance to any Limoges collection.
The term "curios" is derived from the word "curiosity" and serves as a fitting description for this style of furniture. Curio cabinets are traditionally pieces of furniture that display items you cherish and have collected throughout your life. Because of their versatility and ample shelving, curio cabinets are excellent display cases for your Limoges Box collection and other treasured collectibles.
In recent years, LimogesBoxCollector.com has become a favorite and preferred source for exquisite, top-of-the-line Limoges boxes for Limoges collectors and gift buyers all across the United States. LimogesBoxCollector.com is not only known for its fantastic selection of top quality, authentic Limoges boxes, but also for its exceptional customer service and very fast shipping. Every Limoges box offered in its website is in stock and every purchase is shipped the same-day as purchase.
About LimogesBoxCollector.com: LimogesBoxCollector.com is an authorized dealer and direct importer of all French Limoges lines and is the exclusive distributor and retailer of the luxurious line of Beauchamp Limoges boxes. The company is owned by Grand Dezign, Inc. and has served the US and international community for over a decade. As a direct importer and one of the largest Limoges dealers in the US, LimogesBoxCollector.com offers thousands of Limoges boxes in hundreds of styles for every taste and budget. Excellent customer service, same-day shipping and competitive pricing, has made LimogesBoxCollector.com a favorite source for French porcelain Limoges boxes.
For more information, please contact:
Customer Relations Specialists
http://www.LimogesBoxCollector.com
310-391-4559