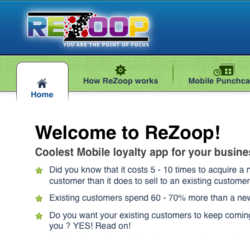 Bloomfield Hills, MI (PRWEB) November 26, 2012
ReZoop, a startup based in Michigan, announces the release of its universal mobile loyalty app. This free app interacts with a wide variety of existing business models to provide a customized solution that fits each business's customer base.
Loyalty programs have grown in popularity with businesses, but in recent years, customers have expressed interest in storing data on a mobile punchcard app, rather than being required to keep up with cards. With ReZoop, customers need only download the app to begin receiving and cashing in rewards.
In addition to provide an easy, no-fuss solution to reward customers, ReZoop also allows businesses to communicate directly with customers through the app. Special offers and event reminders can be sent to those customers most likely to take advantage of them.
"ReZoop is the only free universal loyalty program available and is the fastest-growing loyalty program," says Roli R. Agrawal, co-founder of ReZoop. According to Agrawal, 86 companies throughout the world have already signed up with ReZoop, including companies in Singapore, Australia, Africa, and, of course, the U.S. In the past few weeks, ReZoop has helped businesses accumulate points with more than 1,000 check-ins.
Customers need neither a wi-fi or 4G connection to use the app, which works directly from the phone without draining a device's battery. Businesses also receive access to a printable barcode that can be scanned by customers for easy registration. ReZoop recommends offering an incentive for activation to help get more customers on board.
"I think I've been in the top five percent of my age cohort all my life in understanding the power of incentives, and all my life I've underestimated it," says Berkshire Hathaway vice-chairman Charles Munger, an American business magnate and partner of Warren Buffet. "Never a year passes that I get some surprise that pushes my limit a little farther."
In addition to providing incentives to help increase revenue, business can get an overall view of their customer base. ReZoop offers a dashboard that allows businesses to review information on the success of their rewards. This helps businesses determine the direction of future campaigns while learning more about their customers.
Redeeming rewards is as easy as earning them. Customers need only press the "redeem" tab on the app, creating a record of the transaction on both their device and the business's. Businesses can keep track of all redeemed offers in the mobile dashboard, further determining the success of various offers.
To sign up, businesses need only navigate to http://www.rezoop.com/ and create a free account. No hardware or special tools are required to use the app and customers can download it from either the Google Play Store or the iTunes Store. Business can also download a QR code that will connect customers directly with the app, earning rewards instantly.
For more information about ReZoop, visit its website or call 1.248.952.8070.