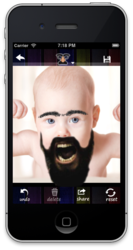 (PRWEB) December 12, 2012
Launching XiffeLabs, a new app development company dedicated to produce quality apps for fun and everyday use. XiffeLabs aims is to develop addictive apps for all age groups - kids, young smartphone users and adults.
Two of their apps, available today offer the most amazing photo editing tools for iPhone and iPad devices.
ModMe Booth offers a highly efficient photo warping tool for iOS devices. Users can take a picture of friends, family, pets or even their favorite movie star, and then bend, warp or distort it to their heart's content! Don't have any good photos of friends at hand? Don't worry, the app also lets users use their Facebook photos!
Disguise Booth on the other hand offers a photo editor which allows users to create funny renditions of pictures and disguise their friends, foes or themselves using image overlays! Add, rotate or scale funny teeth, glasses, eyes, mustaches, hair or beards to photos and have fun. Make Dad a Spartan warrior, give a clown hair to pets or give friends a hint by giving them a Pinocchio nose (they'll know)!
Creations can be emailed to others or uploaded to Facebook.
New features and image packs will be added regularly to the apps to make them more fun and complete photo editing apps!
The apps are available for free giving users a chance to explore their fun quotient and unlock all features when they are ready for more.
ModMe Booth - https://itunes.apple.com/us/app/modme-booth/id558448445?ls=1&mt=8
Disguise Booth - https://itunes.apple.com/us/app/disguise-booth/id575248536?ls=1&mt=8