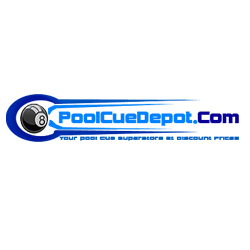 Hartford, CT (PRWEB) December 05, 2012
As the holiday shopping season swings into high gear, leading online pool cue supplier Pool Cue Depot is ready with a newly designed web site that makes it easier for pool players and billiard hall owners to find the right products to improve their game and upgrade their billiard rooms. Featuring high quality pool cues from top brand name manufacturers including Dufferin, McDermott, Cuetec and Lucasi, Pool Cue Depot is one of the most trusted online billiard suppliers and offers a wide variety of one-piece, two-piece and fiberglass billiard cue sticks.
Whether you're shopping for yourself, a loved one who enjoys billiards or for a bar or pub that has pool tables and attracts a regular crowd, Pool Cue Depot is your online source for high quality pool cues, billiard ball sets and pool cue accessories. By offering a wide selection of pool cues and billiard supplies Pool Cue Depot appeals to the recreational player and the serious pool shark making it a great supplier for all levels of billiard playing. In addition to the large stock of Joss and Viking pool cue sticks Pool Cue Depot also features great billiard room accessories including billiard lighting an lamps, game room furniture including spectator chairs and bar stools and high quality floor and wall cue racks to furnish your home game room or bar pool table area.
Billiards has always been a popular game for recreational play and more serious tournaments and as more people take up the game of pool the need for high quality pool cues, billiard ball sets, cue cleaners and pool cue cases increases. When people take billiards seriously they understand how important it is to have the right cue and the pool cue tip shaped to their exacting standards to get the best hit on the ball and achieve greater control over their shot. Pool Cue Depot carries everything the billiard enthusiast needs to improve his game and keep his pool cue in excellent condition. From joint protectors and cue extensions to repair kits and replacement tips Pool Cue Depot has all the tools necessary to make your cue a force to be reckoned with at the pool hall.
Pool Cue Depot also carries a full selection of pool table accessories to keep the table in your home or tables in your bar in great condition. From a variety of table part and protective covers to special felt brushes and table cleaners Pool Cue Depot has all the supplies you need to make your billiard table the best surface for recreational or competitive games. The site also has specialty cues, bridge heads, ball racks and cue holders to provide a complete set up for your home or pub pool table.
Pool Cue Depot is a leading supplier of top brand name pool cues, billiard supplies and pool cue accessories. Offering great prices on high quality pool cues including McDermott, Dufferin and Cuetec billiard cues Pool Cue Depot also provides free ground shipping on all products during the holiday season. For more information call: 1-860-416-8148 or visit them online at http://www.poolcuedepot.com.