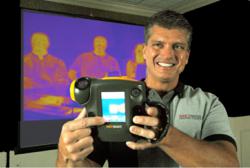 "The training I have received ... from The Snell Group has proven to be one of the greatest turn of events I have had to date. Thermography has changed my life and my business thanks to The Snell Group. "

- Pete N
Barre, Vermont (PRWEB) December 01, 2012
The Snell Group is pleased to announce a trio of two-day, 16-hour courses that have been added to the 2013 Infrared schedule for the United Sates. The courses are recommended for those who have taken Level I Thermographic Applications and are available in the following concentrations:
Building Applications - This course focuses on the application of infrared thermography for advanced building diagnostics. Participants will learn how infrared is used to analyze energy, moisture, and mechanical related problems in various types of structures, residential and commercial.
Electrical Applications - Gain a better understanding of thermography applied to electrical systems including types of faults, failure modes, in-depth discussion of electrical applications plus a number of case studies. Inspection methodologies, analysis techniques and reporting are also covered.
Mechanical Applications - Covers in-plant mechanical systems including motors, rotating equipment, fluid and storage systems, high temperature applications and mobile equipment. Inspection methodologies, analysis techniques and reporting are also discussed.
The new classes allow infrared thermographers interested in building, electrical, or mechanical applications to gain a better understanding of the material in a convenient and manageable two-day course format.
The Snell Group President, Jim Fritz, said that he's excited to see the new offerings, with a lower price-point, added to the 2013 schedule.
"These courses, with a lower cost, allow individuals interested in a particular application to get a really good foundation of knowledge within a two-day window," Fritz said. "We're happy to be able to offer these courses as an option for students looking for more education after taking a Level I course."
For more information, or to register for a two-day application course, please call
1.800.636.9820;
800.636.9820 (toll-free in the US or Canada) or;
+1.802.479.7100 .
Founded in 1986, The Snell Group offers training, certification, inspection, and consulting services for IR and MCA professionals and their programs world-wide. Throughout the company's history, The Snell Group has helped thousands of companies, both large and small, to reduce risk, increase uptime, save money, conserve energy, and improve safety. Their client list is diverse and includes companies such as DuPont, American Electric Power, Southface, and NASA.