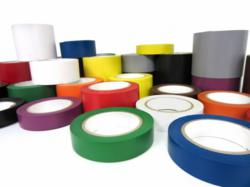 "Our safety numbers have increased due to fewer accidents since we started using floor marking tape. Thanks to Facilityfloormarking.com and Safetytac.com for offering such a great product!"
Lake Oswego, OR (PRWEB) December 05, 2012
Creating a lean facility can be as easy as marking floors with floor marking tape providing organization and reducing confusion and chaos. When there is a lean facility there is also a safer environment for workers and visitors. A 5S program educates workers about marking color guidelines and how to incorporate best practices with floor tape. Facilityfloormarking.com has now teamed up with Safetytac.com to provide the best quality of floor marking tape for any business needs.
Floor marking tape comes in a variety of colors that comply with 5S color guidelines and will provide color coordination within the workplace. Facilityfloormarking.com offers a free floor marking guide that will train staff about what size and color that is required by OSHA and ANSI and will help assist in making a business a safer workplace. Floor marking tape also comes in a variety of shapes to help with marking off hazard areas, separate processes, work areas and pathways. In addition, the floor marking tape can be used for identifying facility storage locations for materials, product, tools and equipment. Once an area is designated with floor markings, confusion and chaos is out of the equation.
By creating visual pathways and outlining hazardous areas will provide safety to workers and visitors. Safety is critical when it comes to running a business. Accidents result in downtime and less productivity causing less sales and ultimately less profit for the company. Floor marking tape costs pennies when it comes to safety. A plant supervisor commented, "Our safety numbers have increased due to fewer accidents since we started using floor marking tape. Thanks to Facilityfloormarking.com and Safetytac.com for offering such a great product!"
For more information about floor marking tape, please visit http://www.facilityfloormarking.com/ or call toll-free (866)777-1360 to speak with a professional representative who can answer all your questions about floor markings.