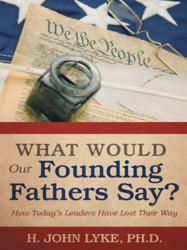 This book not only describes the problem all Americans face today, but offers a sound solution that will put this country back on the right track so that we all can say once again, 'I am proud to be an American.'
Denver, CO (PRWEB) December 05, 2012
If the original leaders of the United States could see the state of our government today, would they feel proud? Retired professor and clinical psychologist H. John Lyke gives America the opportunity to find out in his new book, "What Would Our Founding Fathers Say?"
Dr. Lyke grew up during WWII with a deep respect for the Declaration of Independence, Constitution and the Bill of Rights, and other ideals set forth by our country's Founding Fathers. Revisiting the goals set by our country's original leaders, Dr. Lyke challenges America to become more politically involved and realize there is a dire need in our current society to instill fairness and justice for social classes and ethnic groups.
"Those freedoms that the Declaration of Independence speaks of, 'Life, Liberty and Pursuit of Happiness,' can only be maintained if each American citizen is cognizant of his or her need to respect and/or enhance such freedoms not only in their lives, but the lives of others as well," Lyke says.
In "What Would Our Founding Fathers Say?" Dr. Lyke presses the need for all citizens to develop political knowledge from all points of view, dedication to a cause beyond the individual level, and a sense of urgency to preserve our nation in keeping with the goals of its forefathers.
Dr. Lyke offers solutions that, if utilized, will prevent the destruction of the democratic way of life our forefathers died to protect when the United States was forming.
"I offer a comprehensive way for our country to get out of the morass our government finds itself in," Dr. Lyke says. "This book not only describes the problem all Americans face today, but offers a sound solution that will put this country back on the right track so that we all can say once again, 'I am proud to be an American.'"
"What Would Our Founding Fathers Say?: How Today's Leaders Have Lost Their Way"
by H. John Lyke, Ph.D.
Hardcover, $26.95
Paperback, $16.95
ISBN: 978-1-47594-414-3
Available at Lykeablebooks.com, amazon.com, iuniverse.com, barnesandnoble.com and other online and local bookstores.
About the author
H. John Lyke earned his doctorate at Michigan State University. Dr. Lyke is a board certified psychologist and a professor emeritus at Metropolitan State University of Denver, where he spent more than 25 years teaching. Prior to receiving his doctorate, Dr. Lyke served in Korea during peace time as a Detachment Commander in the U.S. Army Medical Service Corps. Besides "What Would Our Founding Fathers Say?" Dr. Lyke has written "The Impotent Giant." He received the Editors Choice Award and the Rising Star Award from iUniverse for both books. Dr. Lyke has also co-authored "Walking on Air without Stumbling."