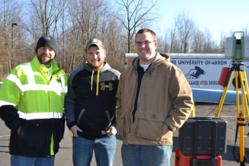 Elyria, Ohio (PRWEB) December 04, 2012
KS Associates, a civil engineering and surveying firm located in Elyria, Ohio, is sponsoring the University of Akron's 2013 ASCE Student Chapter Concrete Canoe Team. The team is comprised of 12 University of Akron civil engineering students who share one goal — design, construct and race a 20-foot concrete canoe, and qualify to compete in the ASCE National Concrete Canoe Competition. KS has made a financial contribution and is donating 3D laser scanning services, which will help facilitate design of the canoe.
On Thursday, November 29, 2012, canoe team captain Clint Cochran and fellow team member Justin Wolf trailored a fiberglass canoe to KS headquarters. KS Surveyor Rick Costello scanned the canoe using a Leica ScanStation C10, giving the civil engineering students a hands-on lesson in laser scanning technology. KS Associates will convert the laser scanning data into a CAD file, which the students will use to design a water-worthy canoe.
The first round of canoe races takes place on Friday, April 5, 2013, at Hinckley Lake during the ASCE Ohio Valley Student Conference. The UA team will be among 13 competing teams from Ohio, Kentucky and Pennsylvania. Each team will score points based on canoe race results, a technical paper, an oral presentation, the canoe's graphics and aesthetics, and overall presentation. The winning team will have the opportunity to compete nationally against schools from across the country at the University of Illinois at Urbana-Champaign in June 2013.
According to Lynn Miggins, P.E., President of KS Associates, "KS is excited to be part of a competition that helps students develop essential civil engineering skills. The competition requires design, team building, project management, technical writing, networking and marketing — skills that engineers use throughout their careers."
About KS Associates:
KS Associates is a civil engineering and land surveying firm founded in 1987. The firm provides land survey and mapping services; 3D laser scanning services; design, bidding and construction administration of public infrastructure and transportation projects; and site development engineering services for institutional, commercial and residential projects. For more information visit: http://www.ksassociates.com.
About the ASCE National Concrete Canoe Competition (NCCC):
The ASCE National Concrete Canoe Competition (NCCC) provides students with a practical application of engineering principles along with important team and project management skills. The event challenges students' knowledge and creativity while showcasing the versatility and durability of concrete as a building material. Known as "America's Cup of Civil Engineering," the first national competition was held in 1988. Winners receive academic scholarships totaling $9,000. For more information visit: http://www.asce.org/concretecanoe.