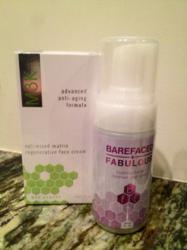 "I have never used anything that took make up of like this" Emmy Award Winner Dayna Roselli.
Boulder Colorado (PRWEB) December 01, 2012
While a legion of baby boomers provide a 70 million plus market to today's anti aging industry, demand is still screaming for a product that is affordable and really works. The market research firm Global Industry Analysts projects that a boomer-fueled consumer base, "seeking to keep the dreaded signs of aging at bay," will push the U.S. market for anti-aging products from about $80 billion now to more than $114 billion by 2015.
After a frustrating search for just such a skin cream, one that actually improved aging skin, M3K Beauty President Kim Johnston turned to Dr. Oz - heart surgeon, health guru and daytime television host followed by millions across the world - to find the answer.
Listing all of the famous health guru's top anti aging ingredients - Matrizyl 3000, Hyaluronic Acid, L Carnosine, DMAE and Alpha Lipoic Acid - suggested as the "fountain of youth, miracle ingredient and must haves" , they were formulated together, along with Vitamins A, C and eight other extremely important ingredients, to create M3K Optimized Matrix Regenerative Face Cream - a simply astounding product that shows results on the first day. M3K focuses on signs of aging - matrix regeneration, enlarged pores, dry skin and fine lines and the loss of the glow to aging skin.
With a successful launch at the Battle of the Strands Event in Las Vegas in October 2012 - the M3K Beauty line, including Bare Faced & Fabulous Face Wash/ Make Up Remover, impressed everyone from the models in the show to some of the biggest names in the industry, including beauty industry legend Peter Anthony Wynn. M3K Beauty and Mr. Anthony's group "Let's Talk About Your Hair" will be working together in the future in some exciting promotions with the Wynn Wynn group working to establish M3K Beauty brand nationwide.
http://www.letstalkaboutyourhair.com/exclusive-beauty-offers
M3K Beauty has had an exciting few months - being named as the Official Skin Care of both the Latin Grammy Awards and The CMA Awards. M3K Beauty has been invited to participate in some of the biggest events in Hollywood in 2013. One such event is the exciting participation in the Christmas In Hollywood Gift Bag, playing Santa to Hollywood celebs Ashton Kutcher, Ryan Gosling, Justin Timberlake, Daniel Tosh, Eric Stonestreet and Josh Duhamel, who will be receiving the industry favorite "Dirty Boy for Fabulous Men Face Wash" said to be the best break out product and face wash on the market.
Some of the fabulous female celebrities on the M3K Beauty Santa list are Angela Bassett, Eva Longoria, Jane Lynch, Heather Morris, Kim Kardashian, Fergie, Halle Berry, Charlize Theron, Mary J Blige, Jennifer Love Hewitt, Courteney Cox, Debra Messing, Paris Hilton, Miley Cyrus, Kathy Griffin, Chelsea Handler, Nancy O'Dell, Emil VanCamp, Leah Remini and Aisha Tyler.
M3K Beauty is a product that was proudly created with an eye on consumers with a mortgage, a job and kids. With an ingredient list that could call for a $200 price tag similar to other high end products M3K Beauty has remained firm on pricing under $50 and claims that a product like this should be available and affordable for everyone, not just celebrities.
About M3K Beauty - M3K Beauty works with one of America's finest health and beauty manufacturers, based in Arizona, to create products that are outstanding in their own industry. Their mission is to provide a very high end product line for a price suited to the working class people, with a motto of "Sometimes it has to be about more than the profit". The company also donates 10% of all profits to a subsidiary to work on projects improving the life of women and children all over the world.
M3K Beauty updates can be found on Facebook, Twitter or their website http://www.m3kbeauty.com
Contact Information
M3K Beauty LLC
Kim S Johnston
424-278-8324
Contact
http://www.m3kbeauty.com