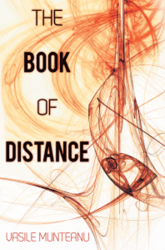 Distance can bring a sense of serenity or echoes of heart-breaking loss.
LAS VEGAS –
(PRWEB) December 06, 2012 -- Distance can creep into any relationship, whether it's with a relative, boss, lover or a goal. Sometimes both physical and mental distances can't be transgressed or trespassed. This new collection of poetry by Vasile Munteanu deals with emotions and thoughts related to remoteness, which can keep people from not only the things and people they desire but also themselves. Depending on the circumstances, however, distance can bring a sense of serenity or echoes of heart-breaking loss.
In "The Book of Distance," Munteanu explores the different aspects of remoteness, opening with "Distance #1," a plea that includes these stanzas: "Don't take, give mental sieve. Don't take, give, same deceive." The distance involved in failed romance resonate in the poem "Distance # 8," and its "Hours of long regret won't forget" and "Sequences of despair here and there." The selection "Distance #42" features remoteness related to the gap left between emotions and the physical world. "Separation by fear, distance too near" and "Separation by need, distance through deed."
Author Vasile Munteanu, who left Bucharest, Romania in 1972, has taught literature and philosophy at the College of Southern Nevada in Las Vegas. He earned degrees in English from Oakland University in Michigan and a Ph.D. in Philosophy, Interpretation and Culture from State University of New York at Binghamton. Munteanu writes both poetry and prose; his books include "Godmaker," "Chandala," "The Unthought," "The Book of Longing," "The Book of Sorrow," and "The Book of Aloneness."
----------
For additional information, please visit http://www.vmunteanu.net.
The Book of Distance
Vasile Munteanu
Dog Ear Publishing
ISBN: 978-1-4575-1471-5 212 pages $40 US
Available at Ingram, Amazon.com, Barnes & Noble and fine bookstores everywhere.
About Dog Ear Publishing, LLC
Dog Ear Publishing offers completely customized self-publishing services for independent authors. We provide cost-effective, fast, and highly profitable services to publish and distribute independently published books. Our book publishing and distribution services reach worldwide. Dog Ear authors retain all rights and complete creative control throughout the entire self-publishing process. Self-publishing services are available globally at http://www.dogearpublishing.net
and from our offices in Indianapolis.
Dog Ear Publishing – self-publishing that actually makes sense.