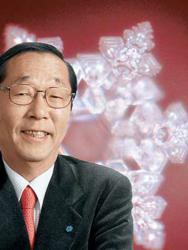 Water has a memory and carries within it our thoughts and prayers. As you yourself are water, no matter where you are, your prayers will be carried to the rest of the world.

~ Masaru Emoto
The Secret Life of Water
Merida, Mexico (PRWEB) December 02, 2012
Author of the NY Times Best Seller, Hidden Messages From Water, Hado (energy) and Water researcher Dr. Masaru Emoto, offers a very special and significant opportunity with the 15th International Hado Instructor School to more fully participate in this monumental event where the collective human consciousness believes Water is the key to open up the "New Era".
December 21, 2012 marks a significant planetary alignment predicted some 26,000 years ago by Mayans with such clarity that pyramids were erected over the course of thousands of years, that reflect the exact alignment of our star system. To commemorate the upcoming event, Maseru Emoto will be an honored Master of Ceremony and participant in the 2012 Spiritual Planetary Summit. A monumental Mayan Event to enter The New Era, sunrise on December 22, 2012. This date will literally be, the dawn of the Age of Aquarius, The Water Age.
Consider that the human brain is over 80% water and the body consists of on average about 75% water, that's same as the very planet that we live on! This isn't a coincidence. Humans are a part of the big universe, in much the same way their body is basically it's own universe. They have rivers that vein through them pulsing blood, a digestive system that nourishes, and organs that filter. All of it requiring water fresh, clean and constantly supplied. The planet Earth has rivers that flow carrying nourishment, cleaning, filtering and pulsing... When Nasa sends probes to other planets, they look for signs of water- signs of life.
Masaru Emoto has been researching hado (energy) and water for over 20 years. As a doctor of Hado Medicine, Emoto's research demonstrates how hado effects water. Most famous for his Water Crystal Photography, Emoto places different hado (energy) to water (words, pictures, music, prayer) showing the true nature of water. The research is genius in it's simplicity, especially when considering the incredible results. Using two samples of water from the same source. Talk to and treat one water sample with positive words or intention, and the other with negative words or intention, the results are breathtaking and profound.
The Water is obviously affected to the point where photographs can be taken and compared. The water exposed to the positive words formed beautiful symmetrical water crystals, while the water exposed to the negative words were malformed, unsymmetrical or no crystals formed at all.One can then more than imagine how their negative and positive thoughts effect the water in their body. Emoto's water crystal photography received international acclaim, featured in the film, "What The Bleep" and his newly launched mobile iPhone application MY HADO. Downloads support Emoto's non profit, the Emoto Peace Project, where the mission is to teach all people, especially children, the true power of words, thoughts, and emotions through water for peace with in and around the world. The EPP contributes towards a movement for World Peace with a Global Positive Intention of Love and Gratitude towards Water.
After milleniums of building communities, civilizations, cities and countries, many humans are looking for deeper, truer connection. A deeper connection to ourselves, and to each other, a more respectful connection to nature, to the healing of our Mother Earth. More and more people are turning inward to thought, to meditation. Going back to our beginnings and relearning integral ceremony and practices of our great ancestors, before the age of constant distraction. Breakthrough after breakthrough is being realized as more and more people understand the connection between water and the power of Positive Intention, as hearts connect the Collective Consciousness grows simultaneously.
If you are wondering what will happen this Winter Solstice, you are not alone. No one knows for sure what will come to pass, and there are many theories. You yourself can sit and observe, or you can actually take a personal roll in this awakening event. Instead of fearing the change, or worrying about what might happen, engage with millions of people who are not afraid. Preparing by learning how to properly love, respect and positively channel healing energy through water, our universal connector.
There is still limited availability in a unique opportunity to learn more and participate personally with Masaru Emoto for this Epic Universal Mayan Event. Masaru Emoto calls on those who resonate to join his pursuit in world peace with The 15th International Hado Instructor School at The Hyatt Regency Merida Mexico from December 15 through 18, 2012 - just days before the Monumental Mayan Celebration of the End of the Mayan Calendar and Beginning of New Era.
Online Registration Here or To Learn More Visit http://www.myhado.com