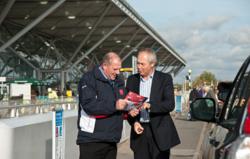 (PRWEB UK) 5 December 2012
Leading airport parking firm I Love has expanded their meet and greet operation to Stansted Airport.
The Gatwick-based parking operator was launched earlier this year and has rapidly risen to become a major player in the competitive valet airport parking market.
Stansted is the fifth major UK airport to benefit from the I Love meet and greet service after Gatwick, Heathrow, Manchester and Liverpool.
The Stansted service will be run by Jim Betchley – previously of both Pink Elephant and Meteor meet and greet's Stansted parking operations.
Sarah Anglim, managing director of I Love meet and greet, shared her pride at the brand's rapid expansion – and revealed the speed at which the company has been able to launch at Stansted is indicative of the success they have enjoyed.
She said, "Jim will be a great asset to our team and his skills will strengthen our fast-growing brand.
"Launching at Stansted was a key goal for us and to be able to start within our first year clearly demonstrates the popularity of our business.
"We are now able to offer our meet and greet parking service at three major London airports."
Despite only being launched this year, I Love is the most experienced meet and greet parking operator in the UK.
The I Love team has been providing meet and greet valet parking at Gatwick Airport since 1984 and its members have more experience than any other UK operator.
For more information visit I Love meet and greet.
NOTES FOR EDITORS
The I Love meet and greet team have been providing meet and greet valet parking at Gatwick since 1984.
Originally the owners of Gatwick's first meet and greet company, PAS, Sarah Anglim, Tony Tucker, Mark Anglim and their team, which now includes Jim Betchley, launched their new brand I Love to show their clients how passionate they are about the product they sell, even after 28 years.
With I Love meet and greet, holiday makers simply drive straight to the terminal building where a member of the team takes their vehicle to our secure car park for them.
On return, their car is brought back to them
For more info please call Stephen or Zoe at SRF on 01252 850540 or email stephen(at)communicationmatters(dot)co(dot)uk