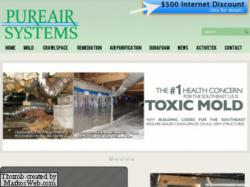 The publication about Critical Crawlspace Information should be read before deciding on the course of action to take including hiring a professional company for mold remediation
Atlanta, Georgia (PRWEB) December 05, 2012
Pure Air Systems is a leader in crawlspace encapsulation, mold removal and moisture management. Their services include Dry Ice Blasting which is an all-natural, no chemical, and no mess mold removal solution. Getting your crawlspace permanently treated and sealed could be the most important decision you ever make concerning your home and the future health of your family says; Chris Turner (President of Pure Air Systems) Mold is attributed for being a leading cause of allergies and related illness in homes.
Mr. Turner wanted everyone to know the facts and truths about crawlspace and basement mold issues that he deems to be critical. That is the purpose of why he wanted to share his years of knowledge and first-hand experience working with moisture management issues and mold treatment solutions. "The article about critical crawlspaces information should be read before deciding on the course of action to take including hiring a professional company for mold remediation" says; Mr. Turner.
Alternaria and Cladosporium are the molds most commonly found both indoors and outdoors throughout the United States. Aspergillus, Penicillium, Helminthosporium, Epicoccum, Fusarium, Mucor, Rhizopus, and Aureobasidium are also common. These are just a few of examples of the type of molds that invade our homes in the United States. So having a strong plan and the right tools to do the job right is key to combating these invaders.
Pure Air Systems scope of work includes: Mold Testing, Indoor Air Quality Inspections, Certified Mold Remediation, Encapsulation, Central Air Purification, Crawlspace De-Humidification, and Dry Out and Insulation Removal. If you would like to learn more about them; following the link: Atlanta Crawlspace Waterproofing.
This release was submitted by Click Ready Marketing an Atlanta SEO Marketing Agency.