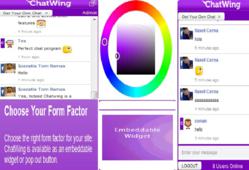 Dallas, TX (PRWEB) December 04, 2012
Facebook chat is now possible in the latest chat software offered by Chatwing.com. Since the application allows social media leverage, users can now log in with their Facebook accounts and extend their purposes in the Chatwing chatroom. Chatwing's developers have upgraded the speed of the chatroom when it comes to social media integration. Additionally, they have also added new modification options.
In Chatwing's new chatbox, users can now upload background images. The background image option has benefited thousands of users worldwide, especially those who are engaging in online marketing campaigns. A background image also improves the overall appearance of the Chatwing chatroom. Users can also set border colors to complement the background image. Any color combination is possible in the new chatroom.
Facebook users can rely on Chatwing's free chat box to fuel their lead generation campaigns. This is beneficial for users who want to find new members for their groups. Facebook page makers can even send links to their pages so other Chatwing visitors can like them. The average Chatwing chatroom can handle thousands of users, so the global connection potential is significant. Facebook friend seekers can now send invitations to Chatwing visitors.
Chatwing.com will continue to come up of new innovations to the free chat widget. In this way, the chat platform will be able to deal with large influxes of users from many parts of the world. The upgrades will also lessen the occurrence of errors and technical glitches in all Chatwing chatrooms.
About Chatwing.com
Chatwing.com specializes in the new field of website chat. Over years, the Chatwing team has introduced live chat widget for hundreds and thousands of blogs. The Chatwing application bridges people from many parts of the world, creating global synergy through the Internet. The shout box can be installed in just seconds, and it can be used for varying purposes such as leisure and Internet marketing. It also allows a user to customize the size, color, and name of the widget. Chatwing is 100% free for everyone.