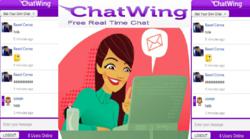 Portland, OR (PRWEB) December 05, 2012
Chatwing.com is now focusing on the improvement of the Faceboook gaming community. The company foresees the attainment of this goal by introducing a multi-functional and free chat widget that can allow global connectivity in a deeper level. The company has also noticed that Facebook games are changing—they are now having friendly game environments that focus solely on group strategies, pooled game assets, and togetherness. With this observation, Chatwing.com is confident that many users can benefit from its chat app.
Chatwing's simple chat box can be used by Facebook gamers to become better at their games. Many Facebook gamers often have their own websites—they tend to use it as portals for other players, tips, and strategies. Once Chatwing shoutbox is installed in these websites, it can ease up the overall communication process. Now, visitors can exchange information easily and website owners can share important tips.
The Chatwing chatbox allows social media integration. With this, visitors can log in with their Facebook accounts. The users can now send invitations to other visitors and they can expand their social networks. Chatwing also offers wide customization options for its shoutbox. Any color combination is now possible, along with different border sizes.
Chatwing's dynamic chat software is not just built for Facebook gamers—it can be used by any web user with a specific online goal. Recently, Chatwing's developers have introduced the chat application to different online communities and portals.
About Chatwing.com
Chatwing.com specializes in the new field of website chat. Over years, the Chatwing team has introduced live chat widget for hundreds and thousands of blogs. The Chatwing application bridges people from many parts of the world, creating global synergy through the Internet. The shout box can be installed in just seconds, and it can be used for varying purposes such as leisure and Internet marketing. It also allows a user to customize the size, color, and name of the widget. Chatwing is 100% free for everyone.