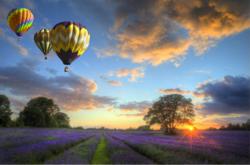 Did that image move?
Jasper, GA (PRWEB) December 05, 2012
Metallics are in. Look at any interior design website, blog or publication and you'll see this hot new trend. Until now, this sleek, contemporary designer look has been focused on room accents like lighting, table accessories, picture frames and wall coverings...not the art itself.
New for 2013, Sublime Wall/Art is introducing a new line of high impact visuals it calls Art in Motion. Featuring a proprietary process that allows for HD quality printing into metal panels, Art in Motion images literally jump off the canvas through a combination of reflectivity and light manipulation. People's reaction to these images is really fun. You often hear "did that picture just move?" as they sense more than just a flat image.
The Art in Motion line is composed of stunning images of Animals, Panoramas, Holiday, Scenic Sunsets, Active Sports, Modern/Abstract Art and other iconic subjects. They are available at fine Gift stores and Art galleries, as well as online at http://www.sublimewallart.com.
Sublime Wall/Art can also create affordable, custom Art in Motion images for commercial use, special occasions, promotions, trade shows, etc.
For more information call 706.635.3699 or check us out at http://www.sublimewallart.com.