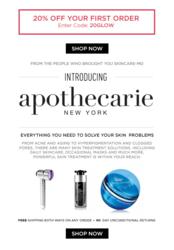 The launch of Apothecarie New York provides women with luxury skin care products and devices that were only available through exclusive dermatologists
Brooklyn, NY (PRWEB) December 05, 2012
Apothecarie New York has announced its official launch and online store, featuring premium skin care products and skin treatments from around the world. The store's skin care brands are specially designed to lavish the body with luxury treatments that were previously only available through physicians.
Apothecarie New York features premium skin care products that foster healthy skin, while addressing a comprehensive range of skin care problems and concerns that includes hyperpigmentation, rosacea, acne and the outward signs of aging. Products are carefully selected to repair damaged skin and rejuvenate for a beautiful and more youthful visage.
The company is headed by a team of beauty and fashion connoisseurs, and premier professionals in their field that includes cosmetic surgeon to the stars, Dr. Howard T. Bellin, with a career that spans over 30 years. Apothecarie New York counts among its team the renowned skin specialist, Anna-Lynn Pacelli; luxury brand professional, Edmond Handwerker; licensed esthetician, Sandy Kohen; and writer, editor and beauty insider, Paige Herman-Axel.
The products at Apothecarie New York address the individual needs of a wide variety of customers for the protection, maintenance and improvement of their skin. The store removes the confusion and uncertainty about skin care products with free, specialized advice from trained and certified skin care specialists. Customers can speak with a licensed esthetician via phone or email, who will handpick the skincare products that best fits their individual needs.
Clients can choose face and eye beauty treatments, along with complete solutions for the décolletage area, body, along with hands, nails and feet. Apothecarie New York features an extensive array of skin care products to gently cleanse, exfoliate, hydrate and nourish every inch of delicate skin.
Consumers also have access to skin care tools that were once available exclusively in dermatologist offices. The skin treatments can be employed in the comfort and privacy of the client's home to treat problem acne, reverse the signs of aging, increase circulation and deep clean for skin that glows with health and vitality.
ABOUT APOTHECARIE NEW YORK
Apothecarie New York is committed to providing clients with the most advanced and effective skin care products and treatments, and education about skin care choices for their individual needs. The store provides shoppers with free consultations on beauty issues and the company's estheticians will handpick the products that best fit the needs of the client to repair, maintain and enhance their skin from head to toe.
####