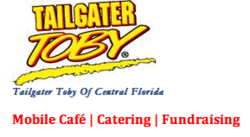 ORLANDO, Fla. (PRWEB) December 04, 2012
Tailgater Toby of Central Florida is a unique and brand new food truck bringing high-quality, fast and delicious food to the Central Florida community.
Ever since Tailgater Toby made its way to the streets of Central Florida, it has become an immediate hit to locals for its top notch food, friendly staff and fast service. Offering a variety of delicious menu items, the Tailgater Toby food truck can be spotted around town at various locations as well as Food Trucks events around the Central Florida area.
Tailgater Toby of Central Florida offers savory menu items such as, BBQ Beef, Chicken Pork as well as a large variety of salads, soups, authentic sauces, fresh salsa and much more.
"I tried their ribs, coleslaw, pulled pork, and mac and cheese; all of them were fantastic. The pulled pork was moist and flavorful, the ribs were tender, the coleslaw was fresh and not too sweet, and the mac and cheese was spot on," says Jenny, a Tailgater Toby customer. "Me and my buddies went to the Classic Football game this weekend at the Citrus Bowl. We were just inside the gate when we spotted Tailgater Toby BBQ Mobile Café," says Charles, another Tailgater Toby customer, "We had two of their BBQ Pulled Pork Sandwiches each. The food was fantastic. We washed it down with their Homemade Lemonade!"
Not only do they serve great food, they also stay active in the community through powerful fundraisers for schools, charities, churches and much more. Tailgater Toby is also now available to cater your next event.
About Tailgater Toby of Central Florida
Tailgater Toby of Central Florida is a full-service food truck with catering, retail and fundraising and offers a full range of quality menu items such as BBQ chicken, beef and pork. Tailgater Toby also offers special events services for any type of event. They provide clients with outstanding quality, excellent pricing and superior customer service. For more information visit http://tailgatertobyfl.com/ or call 407-506-3196.
###