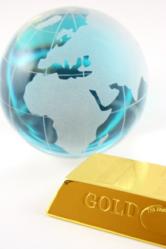 When it comes to commodities such as gold bullion, there are several criteria that ultimately determine the price level.
New York, NY (PRWEB) December 04, 2012
In a recent Investment Contrarians article, editor Sasha Cekerevac reports on a new statement by the World Gold Council's India office: they believe Indian demand for gold bullion in 2012 will end up reaching approximately 800 metric tons, a substantial increase from earlier estimates of 650–750 tons. (Source: "India 2012 gold demand likely to rise 23%," MarketWatch, November 27, 2012.) Cekerevac notes that while India's government has been trying several tactics to reduce gold bullion imports, the earlier drop in demand has not led to a sustained decline for gold prices. According to Cekerevac, in spite of lower than normal gold bullion demand by Indian buyers, gold prices are expected to remain extremely strong.
"When it comes to commodities such as gold bullion, there are several criteria that ultimately determine the price level," says Cekerevac, noting quantitative easing in particular. "… the current environment is interesting in that numerous central bankers around the world are engaging in the same monetary policy, trying to print money to solve short-term problems, irrespective of the long-term side effects."
The Investment Contrarians expert reasons that when considering the level of monetary policy stimulus worldwide, it is highly likely that gold bullion will exceed $1,800 shortly, with a strong possibility for gold prices reaching $2,000 an ounce in 2013.
He points out that this new information from India makes this prediction even more probable.
"The demand side of the equation for gold prices is extremely important," says Cekerevac. "India has long been a huge consumer of gold bullion. Recently, however, because of the weak rupee, India's currency, gold prices in that nation have been at all-time highs. This has led to lower levels of gold bullion buying and, earlier in the year, a strike by gold bullion dealers to protest an import tax imposed by the government on gold bullion."
Cekerevac reports that India's government has been trying several tactics to reduce gold bullion imports, which weaken the country's current account deficit, such as preventing banks from issuing loans on gold bullion purchases and hiking the import tax rate.
He notes that, while an increase in Indian gold bullion purchases back to a normal level should help propel gold prices, Indian politicians may try to impose more restrictions on importing gold bullion. He notes that, over the short term, this might have the reverse effect, causing a large amount of demand ahead of any new rules and restrictions.
"Time will tell; however, the long-run implications of Indian gold bullion demand resuming normal levels is clearly a bullish sign," concludes the Investment Contrarians expert.
To see the full article, and to get a real contrarian perspective on investing and the economy, visit Investment Contrarians at http://www.investmentcontrarians.com.
Investment Contrarians is a daily financial e-letter dedicated to helping investors make money by going against the "herd mentality."
The editors of Investment Contrarians believe the stock market and the economy have been propped up since 2009 by artificially low interest rates, never-ending government borrowing, and an unprecedented expansion of our money supply. The "official" unemployment numbers do not reflect people who have given up looking for work, and are thus skewed. They believe the "official" inflation numbers are also not reflective of today's reality of rising prices.
After a 25- to 30-year down cycle in interest rates, the Investment Contrarians editors expect rapid inflation caused by huge government debt and money printing will eventually start us on a new cycle of rising interest rates.
Investment Contrarians provides unbiased research. They are independent analysts who love to research and comment on the economy and investing. The e-newsletter's parent company, Lombardi Publishing Corporation, has been in business since 1986. Combined, their economists and analysts have over 100 years of investment experience.
Find out where Investment Contrarians editors see the risks and opportunities for investors in 2012 at http://www.investmentcontrarians.com.
George Leong, B. Comm., one of the lead editorial contributors at Investment Contrarians, has just released, "A Problem 23 Times Bigger Than Greece," a breakthrough video where George details the risk of an economy set to implode that is 23 times bigger than Greece's economy! To see the video, visit http://www.investmentcontrarians.com/press.