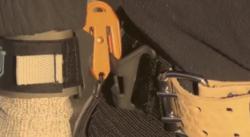 "The key to our Quick-Switch™ lanyard, it does not rely on additional retractable cords or lengthy, cumbersome tethers – increasing the likelihood that workers will use it."– Matt Moreau, Ty-Flot Manager
Manchester, NH (PRWEB) December 11, 2012
Safety Innovator, Ty-Flot, Inc. has launched another brand new and innovative product called the Quick-Switch™ Tool Lanyard. It is one of the only revolutionary system used to connect tools when working at heights that allows hand-offs at height while removing any opportunity for the tool to drop. The system is designed to keep tools connected at all times (including during tool transfers) and to reduce the risk of tools being dropped on persons or property below. What makes this tool unique is that it is a hands-free and 100% positive control of tools system, that operates without heavy bungee cords and other fatigue causing retractor systems.
While most workers at height resist new tool lanyards and any other safety mechanisms or systems added to their already complex list, this system has been well received, because in addition to the new safety features, it actually makes their job easier due to the ease with which it allows switches to take place. Safety is important in every industry and this tool helps to reinforce good safety habits. To better understand how effectively it works,watch this helpful video: Do you feel lucky? Well do yah? Not to worry, since luck and chance are now removed from the equation.
"In the case of our newest product, the Quick-Switch™ lanyard, it does not rely on additional retractable cords or lengthy, cumbersome tethers – which makes the worker's life easier – increasing the likelihood that they will use it. That's really the key here. Workers need to feel compelled to use a tool for it to work." – Matt Moreau, Ty-Flot Manager
Features of the system include a simple-to-learn Quick-Switch™ 3-step process where a strap velcros to each of your wrists and Docks are mounted to your tool belt – allow for an easy "run-through" switch process. For a company that operates at height, safety and efficiency are always of pivotal importance. This product solves top problems such as: reduce tool loss, reduce injury, reduce costs, fast and easy to use, hands free tool switching, less damage to property. The most important key to the new product is that it actually becomes fun to use, rather than difficult and inconvenient. Sure, fun might sound a little crazy – but this type of convenience is an important addition to any worker's tool belt.
"If we give them tool lanyards that they don't like to use, then they aren't going to use them when we're not watching – and that's the situation that causes the potential hazard." – Ryan Blood, Petrochem HSET Director. Check out this Quick-Switch™ lanyard field test video featuring Ryan and his company. http://www.youtube.com/watch?v=0NguCa31jCw&feature=share&list=UUFofGzhu4ejvsa59M75ogyQ
Ty-Flot's research has shown that dropped objects are a significant source of injury and cost in many industries including: oil and gas, construction, power generation, and aviation. Companies worldwide are implementing dropped object prevention programs to reduce injuries and with appropriate tool tie-off requirements these companies show significant reduction in costs associated with dropped tools.
Ty-Flot has noted that in the interest of promoting safety and innovation, free samples are available to those who qualify.
Ty-Flot Inc is a Manchester, NH based company providing foreign material exclusion and dropped objects prevention products, training services, and staffing. The company's mission is to create ongoing improvements in safety across the variety of industries they serve. For more information please visit http://www.ty-flot.com. Instructional videos are available at http://www.youtube.com/tyflot.