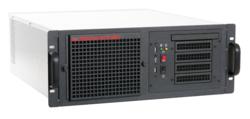 Atlanta, GA (PRWEB) December 06, 2012
The CE-compliant Trenton TRC4011 and TVC4403 rackmount computer and video wall controller platforms are designed and built to maximize application flexibility. These tested and certified system platforms feature a rugged, yet lightweight aluminum chassis design. Enhanced system performance is assured with the latest multi-core Intel® processors and a choice of dual or single-processor single board computers.
Trenton's Made in U.S.A., single board computers and BPG7087 backplane from the backbone of these two robust systems. The TRC4011 and TVC4403 are world-class, CE-certified platforms designed to increase rackmount component space utilization efficiency in submarines, surface ships, airborne command centers, process control rooms, control centers and crowded server rooms.
Here is an abbreviated features list of the Trenton TRC4011 rackmount computer and TVC4403 video wall controller:
TRC4011 - CE-Compliant Rackmount Computer
Single Board Computer: Single-Processor: Trenton TSB7053 or Dual-Processor: Trenton BXT7059* or JXT6966*
PCI Express cards supported: 10 – General purpose PCIe x16 cards
System Storage: 8 – Supports up to eight 2.5" hot swap HDD carriers
TRC4403-011 - CE-Compliant Video Display Wall Controller
Single Board Computer: Single-Processor: Trenton JXTS6966
PCI Express cards supported: 9 - Matrox Mura™ MPX Series video controller cards support up to 36 video display outputs and inputs
System Storage: 8 – Supports up to eight 2.5" hot swap HDD carriers
*Single-processor BXTS7059 and JXTS6966 SBC options also available
"The CE-compliant TRC4011 rackmount computer and its TVC4403-011 design cousin are delivering world-class system flexibility in a wide variety of industrial computer and video display wall control applications", said Michael Bowling, President of Trenton Systems. "The system stability and performance options Trenton offers plus our exclusive single board computer and backplane five-year factory warranty provides a significant competitive advantage in our customer's worldwide intelligent system applications."
Availability
The Trenton TRC4011 and TRC4403 rackmount computers are now available. For more information, call (800) 875-6031 or (770) 287-3100.
About Trenton
Trenton is a designer and manufacturer of intelligent computer systems, video display wall controllers as well as single board computers, embedded motherboards and backplanes for critical embedded computing applications. Trenton is a member of the Intel® Intelligent Systems Alliance, a community of communications and embedded developers and solution providers.
For more information about our company or any Trenton product visit our website at http://www.TrentonSystems.com.
The web pages for the products listed here are:
TRC4011 Rackmount Computer: http://www.trentonsystems.com/products/rackmount-computers/4u-rackmount-computers/trc4011
TVC4403 Video Display Wall Controller: http://www.trentonsystems.com/products/video-display-wall-systems/matrox-certified/tvc4403
Trenton Single Board Computers: http://www.trentonsystems.com/products/single-board-computers/picmg-13
BPG7087 Backplane: http://www.trentonsystems.com/products/single-board-computers/backplanes/picmg-13-backplanes/video-processing-gpu-backplane-bpg7087
Intel is a registered trademark of Intel Corporation in the United States and other countries.
PCI Express is a registered trademark of the PCI-SIG.
Matrox and Matrox Mura are trademarks or registered trademarks of Matrox Electronics Inc.
All other product names are trademarks of their respective owners.
###