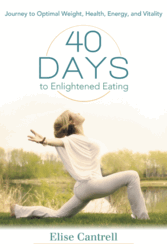 These 40 days aren't only about losing weight but about gaining health, energy, and vitality.
Kohler, WI (PRWEB) December 05, 2012
Elise Cantrell's book, "40 Days to Enlightened Eating," is the first of its kind to incorporate the teachings of the ancient sciences of yoga and Ayurveda into an eating plan to optimize weight, health, energy, and vitality. The book takes the reader on a personal journey, informing and empowering their eating choices step by step; day by day. The book is designed to be read one chapter per day for 40 days, which is the spiritually prescribed time period needed to reconstruct habits and forge lasting change.
"There will be no counting calories, fat, carbs, or points. This enlightened way of eating did not originate in Beverly Hills or South Beach, but from long ago and far away. These 40 days aren't only about losing weight but about gaining health, energy, and vitality," says Cantrell. "Many eating plans cause weight loss at the expense of energy and health. This plan is different. This plan is developed to lighten not only your body but the mind and spirit too."
The book includes insight on how to detoxify the system and reset cravings, appetite and metabolism. The 40-day process helps the reader break self-sabotaging exercise and eating patterns. Cantrell helps the reader discover their Ayurvedic constitution and the best way to eat, exercise and practice yoga for their type. The book includes healthy recipes, a food journal, and journaling suggestions for each day to help the reader integrate the teachings into living, to bring about the best version of one's self.
Who can benefit from"40 Days of Enlightened Eating"?

Any of the 60% of Americans who are overweight, and feel helpless
Yoga practitioners who are looking to amplify their impact
People who struggle with weight-gain, sluggish metabolism, low energy, health challenges, poor or erratic moods
Men and Women looking for ways to dine out with an "enlightened" approach
"Current health and weight-loss ideas and plans simply aren't working," says Cantrell. "It is time to look back at what has worked for millenniums, instead of grasping for something new."
40 Days to Enlightened Eating
By Elise Cantrell
ISBN: 978-1-4525-5467-9
Approx. 335 pages
Paperback: $21.99
Available online at Amazon and Balboa Press
About the Author:
Elise Cantrell is a professional yoga instructor and studio owner in Kohler, Wisconsin. She holds a master's degree in education from the University of South Carolina. She completed her yoga certification at White Lotus Institute and has received advanced teacher training at the Kripalu Center for Yoga and Health. Elise is also a certified Ayurvedic lifestyle counselor through the American Institute of Vedic Studies. Elise regularly teaches a six-week course called 40 Days to Enlightened Eating.
###
**FOR IMMEDIATE RELEASE**
EDITORS: For review copies or interview requests, contact:
Nicole Baker
Literary Publicist
Tel: 877.775.7551 ext. 5487
nbaker (at) balboapress (dot) com