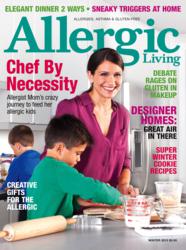 "Alisa brings outstanding ideas, knowledge and passion to Allergic Living's coverage of food allergies and intolerance."
(PRWEB) December 05, 2012
Entering its third year of national distribution, Allergic Living magazine is bolstering its editorial presence with the addition of Alisa Fleming as Senior Editor.
Fleming is an accomplished writer and the author of Go Dairy Free: The Guide and Cookbook for Milk Allergies, Lactose Intolerance and Casein-Free Living. She is also the founder of http://www.GoDairyFree.org, North America's No. 1 dairy-free website.
"We're thrilled to have Alisa on board," says Gwen Smith the magazine's Editor. "She brings outstanding ideas, knowledge and passion to Allergic Living's coverage of food allergies and intolerance." Fleming will continue her popular No Dairy, No Gluten recipe feature in the magazine, but "in the role of senior editor, Alisa gets to show her skills well beyond her great food writing," Smith says.
Since its launch across the United States in the spring of 2011, Allergic Living magazine has grown rapidly and gained a reputation for editorial excellence. Smith is a former senior editor of national magazines and newspapers, many of Allergic Living's writers are well-known health journalists, and its expert columnists include allergists Dr. Scott Sicherer (Mount Sinai School of Medicine), Dr. Hemant Sharma (Children's National Medical Center) and Dr. Clifford Bassett (Allergy & Asthma Care of New York), as well as dietitian and celiac expert Shelley Case.
Other expert voices include the National Foundation for Celiac Awareness (NFCA), the Asthma and Allergy Foundation of America (AAFA) and FAAN (now FARE, the Food Allergy Research & Education organization).
From family feuds with relatives who don't "get" serious food restrictions to social concerns like dating and eating out and societal issues like bullying and avoiding allergens at school, Allergic Living is the go-to magazine for managing the real issues facing those with allergic or celiac disease.
For the 2013 publishing season, the magazine plans to tackle issues such as marital stress and food allergies and the mystery of adult-onset allergies. Meantime, the magazine's food editors are already testing dozens of inspired new allergy-friendly recipes – while their journalist colleagues have begun work to uncover the latest on research progress. As well, readers can look forward in 2013 to smart advice on reducing toxins and allergens in the home and even the tricks to allergy-friendly gardening.
"We are privileged at Allergic Living to work with the best in the fields of food and environmental allergies and celiac disease," Smith says. "And in her new role, Alisa Fleming will help us to set the bar even higher for the incredibly helpful articles we can deliver to readers."
For more about Allergic Living magazine, including the newly released Winter edition, contact: editor(at)allergicliving(dot)com or 1-888-771-7747.
View a sample edition of the magazine here.