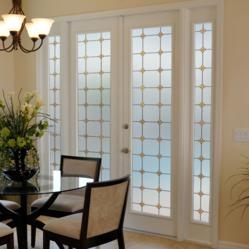 Watch windows, glass doors and mirrored closet doors get a stylish makeover.
Cocoa, FL (PRWEB) December 06, 2012
In this new 90-second video meet the do-it-yourself decorating superstar, "Wallpaper For Windows!". Watch how windows, glass doors and mirrors get a stylish makeover with the beauty of frosted, etched or stained glass using an adhesive-free vinyl film.
Recommended for homes, offices, medical facilities, churches and more, this decorating superstar can decorate any glass surface.
See it to transform sliding glass doors from mundane into a decorative element of the room. To take one-light French doors from ordinary to stylish and impressive. How an everyday storm door can become a 'feel good' entryway focal point. And large windows go from something a person looks through, to something they want to look at.
Yes, Wallpaper For Windows can do all of that and more. Most designs also have a privacy version.
For privacy, this superstar prevents prying eyes from seeing in without darkening the room. Watch it transform a bad or undesirable view into a decorative asset. This decorating superstar provides translucent privacy to windows and glass doors day and night, lights on or lights off.
And there is even more that this decorating superstar can do, watch it decorate mirrors and mirrored closet doors. See-thru designs decorate while allowing the mirror to still be used as a mirror. While privacy versions will eliminate the reflection from mirrors.
There are over 50 Wallpaper For Windows designs from which to choose with sizes available for doors, windows and mirrors up to 8 feet tall. Take advantage of Wallpaper For Windows "Trim To Size" service and the film arrives pre-cut and ready to be applied.
The adhesive-free film is easy to apply and an average door or window only takes about 15 – 20 minutes to complete. From then on, Wallpaper For Windows will look good, save energy and filter UV rays. Checkout the video and you will see that Wallpaper For Windows is a decorating superstar.
#####
About Wallpaper For Windows:
Invented in 1995 by company president Larry Cashion, Wallpaper For Windows!™ window films were developed as an alternative to decorating with expensive frosted, etched and stained glass. EtchArt, LLC of Cocoa, FL is the manufacturer of Wallpaper For Windows!™ and is dedicated to providing an easy, affordable way for people to decorate their living space with the stimulating beauty of decorative glass.
All parts of Wallpaper For Windows™ are made in the USA. The materials, the packaging, the Free squeegee and the labor that produced it. Wallpaper For Windows™ was developed to be and is the best value in decorative window films. It will look great for many years.