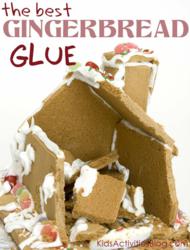 The gingerbread house is only as good as its glue.
Dallas, Texas (PRWEB) December 11, 2012
A Gingerbread House is only as good as it's glue! The best way to start a gingerbread house activity with the kids it to make a strong, quick drying Gingerbread House glue.
It takes only 3 ingredient to make the Super-Duper Strong Gingerbread House glue. They are meringue powder, which is available where cake decorating supplies are sold, powdered sugar, and cold water. Simply mix the ingredients according to the instructions provided on Kids Activities Blog and fill the mixture into a zip lock bag.
How to make a gingerbread house? Simply cut the corner of the zip lock bag to the desired width and assemble the gingerbread house pieces according to the instructions provided on Kids Activities Blog. The imagination has no limits. Let the kids get creative.
Additional fun festive countdown to Christmas ideas are driving around to see the Christmas lights, taking time to donate canned food to a pantry, making a popcorn garland, ringing the Salvation Army bell, sleeping under the Christmas tree, baking a birthday cake for Jesus, doing a random act of kindness, and decorating wrapping paper.
These and many more countdown to Christmas activities are currently listed on Kids Activities Blog. Come get inspired.
About Kids Activities Blog
Kids Activities Blog is a website created by two moms (who collectively have 9 children), Rachel Miller and Holly Homer from June Cleaver Nirvana. It is their daily goal to inspire parents and teachers to play with kids. This interactive website publishes simple things to do with kids twice a day. Kids Activities Blog is a great tool for moms and teachers to find kid-friendly activities that create memories and sneak learning into the fun.