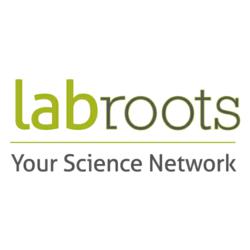 Yorba Linda, CA (PRWEB) December 06, 2012
LabRoots is the leading professional networking website designed to connect all science verticals, allowing scientists from around the world to build relationships with other scientists and increase their influence within the scientific community. LabRoots gives scientists a place to share their expertise and learn from one another.
LabRoots recently re-launched their website in September providing many new features and functions. These features include over 30,000,000 documents of publication metadata; the ability to follow interesting or relevant group topics, then post questions, comments, videos, images, files, and more; view hundreds of live scientific news feeds, updated daily; watch and post videos, images, files, and links; post reviews of publications, products, companies, press releases, and more; enter into monthly scientific photo/image contests for a chance to win cash and other prizes; access thousands of scientific events, conferences, seminars, and webinars; find and post jobs from all over the world; follow companies and institutions or start your own company page and update your progress; connect, follow, and message your colleagues and peers; and post and track your activity and the actions of your peers in real time.
The LabRoots Publications feature provides a place where scientists and professionals can research publications, post their own publications, and compile a customized collection of publications they find useful. The Publications main page offers a continuous feed of over 30,000,000 publications. Users can search for a specific publication or topic and narrow the search by using the "keywords" feature that contains a generated list of suggested keywords to choose from as well as the ability for users to add their own keywords to the list. Once a user locates a publication they find useful they can "bookmark" that work to access it again in the future. Users who wish to publish their own work can do so by choosing the "Add Publication" button at the top of the page. Their work will be added to their own profile as well as the main Publications page. Users may also choose to simply scroll down continually to peruse through the millions of publications. LabRoots Publications is an excellent resource for scientists and professionals to stay updated on new and relevant publications in their fields.
LabRoots has sky-rocketed to be one of the top scientific internet portals for the community to utilize on a daily basis, leveraging its new Facebook level functionality and customized features. With the growth and popularity of the site this year, LabRoots is realizing its goal of connecting scientific communities through global communication.
About LabRoots: Founded in March 2008, LabRoot's vision was to connect the scientific world leveraging a myriad of unique features and tools, discovering meaningful collaborations across geographic boundaries and fields of expertise. LabRoots is the owner and producer of BioConference Live - which has grown into the world's largest series of virtual events within the Life Sciences and Clinical Diagnostics community.