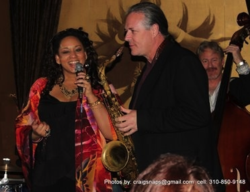 This is the time of year that we focus on giving, I look forward to the personal touch our music will provide to those that are confined in healthcare facilities, bringing joyful music to their hearts sparking lovely memories is our goal" ~ Sharon Marie
Los Angeles, CA (PRWEB) December 10, 2012
As a loyal member of the jazz community at The Jazz Network Worldwide, vocalist Sharon Marie Cline kicks off the holiday season with her soulful Christmas CD entitled "By The Fireside". This past year has been a whirlwind of musical milestones for Cline, with her latest single "Love Dance" from her upcoming CD "This Is Where I Wanna Be".
"Sharon has made her mark this year, sharing a fruitiful amount of music with The Jazz Network Worldwide, she is a mover-and-shaker when it comes to her music. Her heart-song sings loud and clear, purposed to entertain with a robust spirit of song with each musical offering. It's a pleasure to have her kickoff our holiday season in the network", says Jaijai Jackson, creator of The Jazz Network Worldwide.
A special holiday event is scheduled for December 19th where Sharon Marie & her Bad Boyz of Jazz will be celebrating the Holiday Season 'Swingin' Style' with great Holiday Music, Classic Jazz and special musical guests adding to the Naughty & Nice Fun! The acclaimed vocalese group Chambers, Herbert, Ellis and the bodacious & Saucey Ms. Mary Bogue. The debut of Sharon Marie's new original song: "Sugar On My Lips" which was co-written by Mark Winkler and Rich Eames due to be released in January will be performed. Sharing her philanthropic heart, this special event will be streamed live at The Gardenia Restaurant & Lounge, in West Hollywood, California and will benefit the Juvenille Arthritis Foundation and the BOYS & GIRLS CLUB guaranteeing smiles to many children's faces.
Not only does Cline offer her heart-song to non-profit organizations, she exercises the 'music wellness' component of her business to retirement, nursing and convalescent homes as well as homebound patients offering up-close-and-personal Christmas caroling.
"This is the time of year that we focus on giving, I look forward to the personal touch our music will provide to those that are confined in healthcare facilities, bringing joyful music to their hearts sparking lovely memories is our goal" says Cline.
Continuing the holiday spirit, Sharon Marie and the Bad Boyz of Jazz will be returning to NOLA's Restaurant on December 23rd in downtown LA for their holiday brunch.
Sharon Marie is excited about 2013 for her goal is to release her CD "This Is Where I Wanna Be" in the spring.
Be sure to come by The Jazz Network Worldwide at http://www.thejazznetworkworldwide.com to tune into Sharon's holiday feature of her Christmas CD "By The Fireside" and to learn more and to join her social network visit her at http://www.sharonmariecline.com.