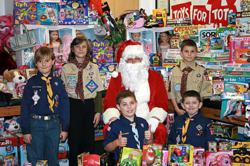 The Cub Scouts, New Life Chiropractic, and GJ USA Talks team up with Walmart and the Salvation Army for the Annual Toys for Tots drive in Grand Junction Colorado
(PRWEB) December 07, 2012
Cub Scout Pack 353 will brave 30 and 40-degree temperatures this weekend as they work to collect toys for less fortunate children. The Cub Scouts, New Life Chiropractic, and GJ USA Talks team up with Walmart and the Salvation Army for the Annual Toys for Tots Toy Drive. Pack 353 has collected an average of 500 toys each of the last four years, but is hoping to exceed that this year, and set a new record at 550 toys.
This weekend marks the 5th year that Grand Junction Cub Scout Pack 353, led by Dr. Wes Sheader of New Life Chiropractic, will collect items for Toys for Tots. Over the past four years, this Pack has collected an average of 500 toys per year to give less fortunate children. They would like to break that record this year, and are teaming with Grand Junction marketing firm, BlueFinn Creative Group to spread the word.
The boys will collect toys Saturday, December 8 from noon-3:00pm at the North Avenue Walmart store, and at the Rimrock Walmart from noon-3:00pm on Sunday, December 9th. They will be outside the stores and will hand out suggestion lists for those who might feel compelled to help. Items needed are new toys, such as stuffed animals, dolls, cars, arts & craft items, Legos, etc.. Toys are also being collected at New Life Chiropractic, 2532 F Road in Grand Junction, CO.
As has become the tradition, all of the collected toys will be taken to the New Life Chiropractic office, sorted and counted. Then, Santa will arrive at New Life Chiropractic on Tuesday, December 11 from 4:00-6:00pm for a celebration with the Scouts, their families and the community. Everyone is invited, and all will receive a photo with Santa. You do not have to be in scouts or be a patient at the office to join in the celebration. The toys will then be delivered to the Salvation Army for distribution to Grand Junction children in need.