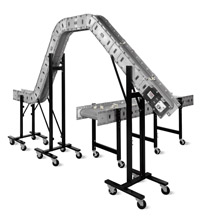 If you figure $25K per operator, we're now saving about $250,000 to $350,000 per year.
Muskegon, MI (PRWEB) December 07, 2012
Responsiveness is more critical than ever to manufacturers in the ultra-competitive OEM automotive component business, where suppliers must be able to expedite production throughput and retool on the head of a pin. Unfortunately, in many of these variable environments, production changes can be restricted to the set layout of a fixed conveyor. For these manufacturers, if the system could be adjusted to accommodate changing workflow, it would hold promise to improve setup flexibility as well as make other improvements to the bottom line.
Such was the thinking of Michael Van Zant, Manufacturing Manager for Nyloncraft of Mishawaka, IN, a Tier-1 manufacturer of a variety under-the-hood parts and various types of exterior trim. With a wide range of products and mold retooling done on a daily basis, a flexible alternative to traditional fixed conveying systems held a great deal of appeal. Van Zant foresaw the potential for modular conveyors composed of interchangeable modules to provide advantages over the traditional fixed conveyor systems used throughout Nyloncraft's operations.
"The fixed systems we were using, coupled with the need to reset our production runs quickly, limited the way we could deliver materials to and from the presses. Fixed conveyors are fine for many manufacturers with dedicated production runs, but we are a custom house and need to change over our molds and floor layout frequently," Van Zant says.
"Our presses are quite a ways apart to allow clearance for resetting our molds, which can occur every day or two," Van Zant explains. "As a result, there was an operator at every press, even though most of our jobs run in 60- to 70-second cycles, which left the operators with nothing to do but wait much of the time. There was no way to allow an operator to work two presses," he says.
Van Zant discovered the DynaCon modular conveyors, manufactured by Dynamic Conveyor Corporation, Muskegon, MI. "The first thing I noticed about the DynaCon system was that it looked very flexible," Van Zant says.
"The DynaCon flexible conveyor systems allowed us to be creative," Van Zant explains. "Now I can run this job by sending one conveyor over to a second press. That means an operator can run multiple jobs. With the DynaCon we're able to bring the parts from the second press right to the operator."
"If you figure $25K per operator, we're now saving about $250,000 to $350,000 per year. So the payback on the DynaCon modular conveyors was fairly quick, I would say the ROI period was as quick as six months," says Van Zant.
For more information about DynaCon conveyor systems, contact Dynamic Conveyor Corporation, 5980 Grand Haven Road, Muskegon, MI 49441; phone (800) 640-6850; or visit the web site http://www.dynamicconveyor.com.