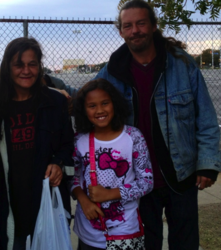 It makes what I went through worth it just to see people who are worse off than I ever was receiving help.
Frisco, TX (PRWEB) December 09, 2012
Stephanie Kings' husband was riding through the streets of Iraq as a U.S Marine when his vehicle was hit by roadside bombs on three separate occasions. In one attack he lost two of his friends and walked away with traumatic brain injury. When he returned home, his disabilities had stabilized. However it wasn't until after King left her job with the Federal government to start a real estate business with her husband that things took a turn for the worse. Her husbands' disabilities got dramatically worse. "His headaches began to be so severe that he couldn't even get out of bed most days," King says.
After not being able to start their business due to her husbands worsening disabilities, they quickly spent their savings, lost their home to foreclosure and could no longer pay their bills. King says, "We sold almost everything we owned just to survive. We even had to rely on Government medical assistance for our children. I was in complete shock."
Kings husband finally received a permanent and total disability rating from the Department of Veterans Affairs which drastically improved their financial situation. But, after loosing everything, King says that she was left with a deep compassion for those who were struggling to make it. She said, "I realized it could happen to anyone without warning and God told me to help these people."
From her struggle, King started the Be a Blessing Challenge. In under two months, using sites like Facebook and Twitter, she has inspired people from across 30 cities, 14 states and four countries to commit to over 500 random acts of kindness with the goal being one million. Stories and photos are pouring in of people who are helping the homeless, sick children and families who have experienced loss. In one story, a woman tells of buying lunch and providing a ride to a mother of three who was staying in a domestic abuse shelter. She saw her walking and said,"They were fleeing an abusive relationship & she said she was ready to return to that life just to get out of the shelter because she couldn't even get around town without a car." But because of this woman's act of kindness, the mother now had hope. King says, "It makes what I went through worth it just to see people who are worse off than I ever was receiving help."
King also participates in the challenge and has already gathered families in her area to give out gifts and blankets this Christmas eve to random homeless people. However, she knows that she cannot reach this goal alone and needs people from all across the world to help her. If you would like to find out more about how to join the Be a Blessing Challenge, you can visit her website at http://www.B2Challenge.com.