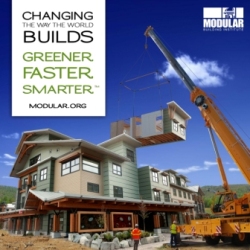 We believe that the site will be a valuable tool for the media, as well as construction professionals, to learn more about this rapidly growing industry.
(PRWEB) December 11, 2012
The Modular Building Institute, the international nonprofit trade association serving commercial modular construction, has revamped its website to offer greater access to its modular construction resources and member services.
The home page provides quick links to key industry reports that will be helpful to media, developers, engineers and builders – among them, market reports, white papers, LEED briefs and annual reports.
A "Why Build Modular?" section gives concise bullet points highlighting the benefits of modular as a "Greener, Faster, Smarter" building method. For example, modular is greener due to less material waste, faster because of building construction that is simultaneous with site prep, and smarter due to the safety of building in a factory environment.
The website redesign coincides with an increased interest in offsite construction as more people come to realize its inherent efficiency. "We believe that the site will be a valuable tool for the media, as well as construction professionals, to learn more about this rapidly growing industry," said Tom Hardiman, MBI Executive Director.
Also on the new site are numerous case studies of cutting-edge modular buildings, which showcase offsite construction's applicability in the fields of education, healthcare, hospitality, retail, commercial and workforce housing, office and administration, and disaster relief.
Multi-media options include video depicting the modular construction process and podcasts covering subjects such as "Increasing Productivity in the Construction Industry" and "Rethinking Construction."
For those interested in locating a commercial modular builder, dealer or product supplier in a specific geographic area, the "Find a Builder" page provides a detailed search engine.
For architects, continuing education articles are offered for American Institute of Architects (AIA) credit, but these resources are useful to anyone interested in learning about subjects such as green building, the combination of traditional and offsite construction, site waste elimination and more.
Additional features of the site include a calendar of MBI events – which includes industry education and an extensive section on the annual World of Modular trade show and conference – and a showcase of MBI Awards of Distinction winners.
About MBI
The Modular Building Institute is the international nonprofit trade association that has served the modular construction industry for 30 years. Members are suppliers, manufacturers and contractors involved in all aspects of modular projects -- from complex multistory solutions to temporary accommodations. As the voice of commercial modular construction, MBI expands the use of offsite construction through innovative construction practices, outreach, education to the construction community and customers, and recognition of high-quality modular designs and facilities. For more information on modular construction, visit http://www.modular.org.