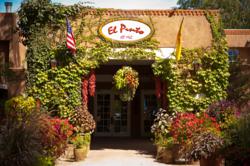 When our parents founded El Pinto 50 years ago, they called it El Pinto, because they knew it would be the spot for great food and great memories. - Jim Thomas, Salsa Twin
Albuquerque, NM (PRWEB) December 08, 2012
El Pinto Restaurant in Albuquerque New Mexico celebrates 50 years of New Mexican cuisine with a new advertising campaign. The new commercial celebrates the fresh cuisine that has turned El Pinto into a famous restaurant, from hand-peeled Hatch green chile, to one-of-a-kind red chile ribs, to exceptional margaritas. Everything is made fresh at El Pinto daily, making El Pinto a famous restaurant spot to enjoy the best in healthy New Mexican cuisine.
"It is timely to begin this commercial over the holidays because El Pinto is the spot that family and friends come together to celebrate holiday traditions," said Salsa Twin John Thomas, El Pinto co-owner. Twin brother Jim Thomas continues, "When our parents founded El Pinto 50 years ago, they called it El Pinto, because they knew it would be the spot for great food and great memories."
Over the past 50 years El Pinto Restaurant has grown from a few tables in one room, to become the most famous restaurant in New Mexico. Serving the best in healthy New Mexican food from traditional recipes from grandmother Josephina Chavez-Griggs, El Pinto is the spot that locals and tourists alike seek out for fresh New Mexican cuisine.
About El Pinto Restaurant & Cantina:
Established 50-years ago, El Pinto is a quintessential icon for New Mexican cuisine. Conveniently located in the North Valley of Albuquerque just off I-25, the serene patios located under beautiful cottonwood trees provide an iconic experience. El Pinto is known nationally for its fire-roasted green chile and fresh flavorful salsa distributed across the national in local grocery stores. The salsa and green chile factory is located on the same grounds as the restaurant. For an authentic taste of New Mexico, visit El Pinto for its iconic food, traditional margaritas, and award winning chile. http://www.elpinto.com