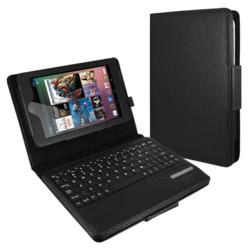 The world's favorite suppliers of electronic accessories have just introduced an excellent range of cases for Google nexus 7 with keyboard
New York City, NY (PRWEB) December 27, 2012
Google Nexus 7 users all over the world can finally make the most out of their tablet devices, thanks to MiniSuit. The world's favorite suppliers of electronic accessories have just introduced an excellent range of cases for Google nexus 7 with keyboard. This multipurpose case, keyboard, and stand combo is available in two models with a non-slip rubberized grip, and Polyurethane leather finish. The most striking feature of these useful nexus 7 accessories is their versatile design that provides a convenient viewing angle for easy typing. The just launched covers for Google Nexus 7 are presently available at the company's website and Amazon.com.
MiniSuit is a trusted name in the electronic accessories market for their top notch products that are available within a common man's budget. A Google nexus 7 case from MiniSuit can be an invaluable purchase because it offers a unique combination of comfort, durability, and economy. The Bluetooth keyboards are extremely handy and easy to use. The lightweight and compact case makes the enclosure thin and comfortable to carry. One of the two models has an attractive aluminum colored finish with rubberized back for extra protection. Whereas, the other one, is made from polyurethane leather and has a microsuede interior lining to offer protection from rough handling.
With all these multipurpose cases for Google nexus with keyboard, the manufacturer is presently offering a keychain cleaner absolutely free of charge. All buyers also receive a 60-day satisfaction guarantee from the company. The introduction of this new product line from MiniSuit has already received excellent response from the owners of Google Nexus 7 devices.
Paul from Arizona has already purchased one of these nexus 7 covers and thanked MiniSuit saying, "I could not have asked for anything better for my new tablet. It is truly amazing how this keyboard cover can change the experience of using a Nexus 7 device. I am planning to buy one more for my girlfriend before the Christmas".
About the Company: MiniSuit is the largest and the most preferred distributor across the globe for a wide range of electronic accessories. The company has just announced the launch of an excellent collection of cases for Google Nexus 7 with keyboard.