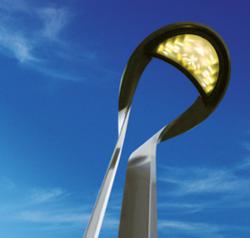 Kalamazoo, MI (PRWEB) December 12, 2012
New technological advancements in the Hi-Glo pedestrian and pathway streetlamp designed by BMW Designworks USA and sold through Landscape Forms, allow more lumens to be produced using less wattage, which saves energy and further lessens the environmental impact of this outdoor lighting solution.
This Hi-Glo outdoor lamp still offers an aesthetically pleasing, quality design, but now features improved lighting technology. The streetlight is able to provide more lighting using less wattage through advanced LED technology. Prior to the improvements, the LED chip present in this streetlamp only allowed 24 lumens per watt to be produced with an output of 1,627 lumens that operating using 65 watts. The more technologically advanced version of this product can now emit 42 lumens per watt with and output of 2,400 lumens and it only requires 56 watts to function. This means more light, or lumens, per watt with lessened energy consumption.
The new lighting style also offers more aiming angles with less glare. Further, its new circuit construction makes a constant current possible. Other features include surge protection, improved dimming control and an easier installation.
As before, this Hi-Glo light still features a replaceable LED cartridge and 3,500 degrees of Kelvin warm white light.
These lights from Hi-Glo are 12-foot tall and are constructed using aluminum. This stylish lighting solution comes pre-wired and has a Pangard II powdercoat available in shades of blue, green, gray, red and yellow along with black and white.
This Hi-Glo streetlight can be obtained through Landscape Forms, a furniture and accessory provider who serves locations throughout the United States as well as internationally. The company partners with designers to provide solutions for outdoor environments, such as this Hi-Glo streetlamp.