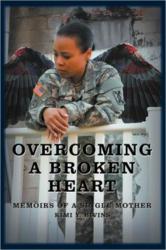 God is the answer to every problem.
Tuscaloosa, AL (PRWEB) December 14, 2012
After accepting Jesus Christ as her lord and savior, Kimi Y. Bivins says she "received the infilling of the Holy Spirit that called her to minister." This calling began a movement within her to write poetry to help her find comfort and peace. "Overcoming a Broken Heart: Memoirs of a Single Mother" (published by CrossBooks) is Bivins way of expressing to the public the joy and confidence that God can instill in their lives if they just believe.
The book is a collection of her poetry that touches on themes of forgiveness, love, and the communication through the word, not opinions, that will prevent broken hearts and help heal the hearts that are already broken. Bivins believes that "Overcoming a Broken Heart" will also help churches "turn back to the one main basic thing – to love one another through the love of God, with his loving kindness."
An excerpt from the poem "Who Told You God Wouldn't Hear a Sinner's Prayer?" from "Overcoming a Broken Heart":
"Who told you God wouldn't
hear a sinner's prayer?
Before you were saved,
didn't he hear you cry out? This assumption is unfair.
Oh, but this doesn't apply to you.
You came into the world saved.
If you think like this, you're foolish
—to think that when you were born, you automatically had it made.
When God gave his only begotten Son,
he loved and thought of us all.
It was always his intent,
even when Adam created the greatest fall."
"God is the answer to every problem," states Bivins. "He does and is concerned about what concerns us."
"Overcoming a Broken Heart: Memoirs of a Single Mother"
By Kimi Y. Bivins
Hardcover | 6 x 9in | 178 pages | ISBN 9781462721580 |
Softcover | 6 x 9in | 178 pages | ISBN 9781462721573 |
E-Book | 178 pages | ISBN 9781462721566 |
Available at Amazon and Barnes & Noble
About the Author
Kimi Y. Bivins has a bachelor's in multidisciplinary studies from Grantham University. She is on active duty in the military and has served 23 years. Bivins is currently working on a master's in human resources and seminary. She has one daughter and lives in Alabama. This is her debut book.
CrossBooks, a division of LifeWay Christian Resources of the Southern Baptist Convention, is a Christian publishing imprint committed to bringing more Christian voices into the publishing industry. Established authors, first-time authors, and authors anywhere in between can meet their goals and fulfill their vision for their books by publishing with CrossBooks. CrossBooks' innovative style of publishing blends the best of traditional and self-publishing. While our authors contribute monetarily to cover the cost of publishing, we maintain a strict moral and quality standard that every manuscript must meet for us to publish. For more information on publishing your Christian book with CrossBooks, log on to crossbooks.com or call 1-866-879-0502.