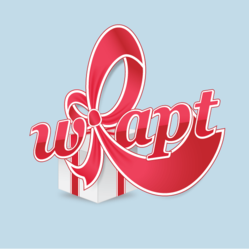 Gifting is Social
(PRWEB) December 13, 2012
Just in time for the Christmas rush, wRapt! débuts as the personal gift registry to help give and receive the perfect gifts. wRapt! is a smartphone-based personal gift registry, providing the ability to snap, tag, and share the ideal gifts, direct from smartphones. More than ensuring users receive the gifts they desire, wRapt! makes it easy for them to discover and find the gifts friends and family will love.
Using wRapt!, take photos of desired gifts and share the gift information with friends and family. They can see the shared gift list and select the perfect gift. Better still, others can see whether or not a gift has already been bought. No more duplication of gifts and managing returns without receipts.
wRapt! features full integration with Facebook and Twitter to share the joy with the nearest and dearest. wRapt! also provides the ability to invite friends and family to view gift lists and share their lists.
Remember that feeling of excitement at Christmas when, ten years old and that box under the tree could only be that flashy red bike? How was this feeling lost? When did gift giving become something to dread? wRapt! brings back those carefree days by sharing with friends and family the perfect gifts.
How about that warm and fuzzy feeling gained from giving the perfect gift and seeing joy in the other person's face? wRapt! ensures never being stuck for a gift again. Using wRapt! means finding the gifts others want and, more importantly, find a place to buy that gift, to make gift giving as easy as Christmas pie.
This handy app is not just for Christmas. wRapt! can provide reminders of birthdays and special events and have the perfect gifts automatically recommended for someone. What could be easier than that? Want to avoid being in the middle of a mall stuck for what to give on Saturday night? Use wRapt! as a personal assistant to help find the right gift, whether on-line or a store locally.
wRapt! is free to download now on iTunes. Download it today and make this Christmas the easiest and best ever - perhaps receiving that flashy red bike.
More information is available at: http://wraptapp.com/making-you-awesome/
Download from iTunes at: http://owl.li/foNB8