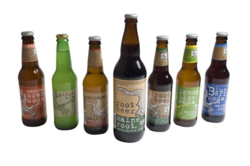 Natural ingredients are...better for for the farmers, for the environment, and for us."
Olney, Maryland (PRWEB) December 12, 2012
Rooted in farm freshness, Ricciuti's Restaurant takes its commitment to sustainable sipping to heart. The Montgomery County restaurant replaced the Coca-Cola Company as its soft drink distributor, in favor of Maine Root Handcrafted Beverages.
For the last six years, Maine Root's organically-sweetened sodas have been sipping away at Coca-Cola's market share nationwide. Maine Root's beverages are Fair Trade Certified, which ensures that farmers earn fair incomes for their crops worldwide. Sourced from Fair Trade organic sugar, natural botanicals, and spices, the sodas keep high amounts of herbicides and pesticides commonly sprayed on sugar cane crops out of the ecosystem.
An ardent supporter of sustainable farming, Chef and Co-owner James Ricciuti almost exclusively sources food and spirits from local growers and small-batch producers. "Natural ingredients are a win-win, from beverages to burgers. They're better for the farmers, for the environment, and for us."
Lifelong locavores, Ricciuti and his wife, Amy, brought their love of fresh cuisine to Montgomery County in 1992, when they opened their first restaurant in Laytonsville. Today, the couple artfully prepares seasonal flavors and food traditions native to the region.
Ricciuti's growing list of progressive producers includes: Eberly Poultry (PA), Roseda Farms Beef (MD), Banner Bee Honey (MD), The Farm at Our House (MD); and small-batch suppliers such as Catoctin Creek (VA) and Black Ankle Vineyards (MD). For a complete list of local farms, visit their website.
To drink in Ricciuti's fresh perspective firsthand, visit them at 3308 Olney-Sandy Spring Road, Olney, MD 20832 or call 301-570-3388.
About Ricciuti's
Ricciuti's highlights locally grown and seasonally-inspired dishes in its casual Montgomery County setting. Their award-winning menu features sustainable seafood and locally-farmed ingredients. An Open Table Diner's Choice Winner in 2012, Ricciuti's is celebrated by locals and "foodies" alike for its savory fare and eco-friendly philosophy.