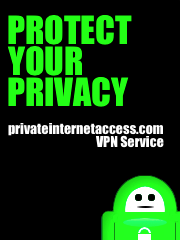 Leading VPN Service Provider adds account use on multiple devices, a Proxy function, and more Speed.
(PRWEB) December 13, 2012
In the world economy, all too often companies cut perks in order to realize higher profit margins.  PrivateInternetAccess.com has a mission to provide an in-expensive and reliable VPN Service to internet users world wide whatever it takes.  It has added a SOCKS 5 Proxy option for user accounts to allow individual applications/software to use VPN Services, while the rest of the computer uses regular WIFI.  It increased the functionality of their service to allow up to three devices to access its VPN Tunnel at a time and increased its bandwidth to over 100 Gbps.  Despite the added value to the VPN Service, the price will remain the same.   
PrivateInternetAccess.com has increased its total number of servers from 78 to 91 by adding servers in France, Sweden, and Germany to its existing ones in the US (7 regions), Canada (2 regions), UK (2 regions), Switzerland, Netherlands, and Romania.  These additional servers provide customers with added flexibility in their geographical IP browsing selections and bring a significant bandwidth jump to an already fast service.   
Many users have multiple devices that are accessing the internet concurrently, and now PrivateInternetAccess.com has added the flexibility to allow up to three devices to use its VPN Service at once via a single account.  This means that, for example, a regular computer internet browser, a cell phone, and an iPad can all have the VPN active at the same time under the same account.  
The company has also added the option to use SOCKS 5 Proxy, which will allow an individual application to access the VPN while the rest of the computer uses unprotected internet.  The SOCKS 5 Proxy can be one of the three concurrent connections used to browse anonymously.   
About us:
PrivateInternetAccess.com was founded in 2009 in response to the very real need to protect the privacy of internet users.  It is our mission to provide users with total internet anonymity and security.   If you would like more information on this topic, or to schedule an interview with Will McAdams, please call 855/266-6876 Ext. 903 or e-mail Will at Will(at)londontrustmedia(dot)com.