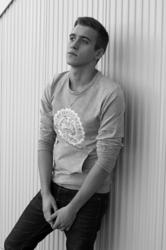 Every piece Triko mints aims to tackle various social issues in hopes of raising a much needed awareness.
Freehold, NJ (PRWEB) December 13, 2012
Founded in 2001, Triko today announces its comprehensive Holiday 2012 collection. Built upon Founder and Creative Director Hector Estrada's passion for promoting social and environmental awareness, the 2012 Holiday collection infuses the core humanitarian ideals that the Triko brand has become known for over the years with an added aesthetic rejuvenation.
Triko's Holiday 2012 range brings together classic street staples like hoodies, T-shirts and crewnecks while infusing its own construction techniques that employ premium 100% Peruvian cottons and DipDye French Terry blends. The premium selection of textiles serve as the foundation for overlayed bold screen graphics, understated embroidery patchwork hits and tonal stitching that characterize each piece.
Web-Ready High Resolution Imagery is available here for download:
http://www.sendspace.com/file/zlcgvv
The Triko 2012 Fall/Winter Collection can now be purchased through select retailers worldwide.
Press Inquires:
cherry(at)triko(dot)com
____________________________
About Triko:
Triko is a street-influenced menswear brand founded in 2001 by Hector Estrada. Having taken a hiatus from the industry in 2009, Estrada recently returned to helm the creative direction of Triko with a renewed and rejuvenated approach to the label. With each design digging much deeper than the face-value of its heavy graphic-driven roots, every piece that Triko mints aims to tackle various social issues in hopes of raising a much needed awareness to the industry. And yet, within the midst of its humanitarian underpinnings, each collection is able to stand alone off of the strength of its unique aesthetic. Notable each season is the label's cut & sew details and focused approach to selecting only the best premium textiles and materials that pair well with its carefully curated, forward-thinking visuals.
With a full-scale approach to its collections -- from sourcing and manufacturing to creative direction and its business relations -- Triko's unconventional mentality lends itself to a welcome and often against the grain combination of socially conscious yet completely wearable fashion.