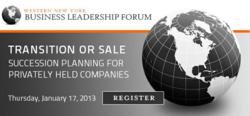 Our Moderator Randy Bianchi of Summer Street Capital holds a certificate in family business advising from the Family Firm Institute.
Buffalo, New York (PRWEB) December 13, 2012
Executive leaders of local companies are invited to attend a forum scheduled to take place on Tuesday, June 19th from 8:30 a.m. to 10:00 a.m. at the Burchfield Penney Art Center, 1300 Elmwood Avenue in Buffalo. The forum entitled "Transition or Sale? Succession Planning for Privately Held Companies," is being presented through the collaborative efforts of Lumsden & McCormick, LLP, Jaeckle Fleischmann & Mugel, LLP, Escape Wire Solutions, Insyte Consulting, Vanner Insurance Agency, World Trade Center Buffalo Niagara and UB Center for Entrepreneurial Leadership.
The January 17th forum will feature a panel discussion moderated by Randy Bianchi, Partner, Summer Street Capital Partners. Panelists include:
Steven LoVullo, Partner, Lumsden & McCormick, LLP
Adam Mikols, CFO, Seal & Design Inc.
Timothy Minneci, Executive Vice President, Paramax Corporation
Thomas Palmer, Partner, Jaeckle Fleischmann & Mugel, LLP
Dean Penman, President & CEO, Seal & Design, Inc.
This forum is complimentary. To register visit http://www.businessleadershipforum.com. For more information contact Paul Herlan at pherlan(at)lumsdencpa(dot)com or 716.856.3300. The Business Leadership Forum is designed to bring together the leaders of Western New York companies for an open discussion on growth opportunities, challenges and topics of relevance. Local executives share case studies and perspective, with accounting, legal, insurance, technology consulting, strategy, insurance and international trade professionals on hand to answer questions regarding specific issues.