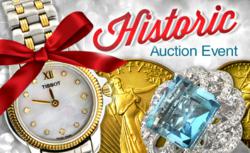 Tehachapi, CA (PRWEB) December 12, 2012
GovernmentAuction's December 16, 2012 auction will feature nostalgic antiques and luxury goods including, designer watches, fine jewelry and gold coins in this week's auction event on the online auction site LiveAuctioneers.com. Bidding in this one day historic event will start at only $2 on most lots.
A featured high end jewelry piece is a stunning 14CT Ruby & Diamond Pendant with chain. The pendant is composed of a ruby set within an inner diamond bezel, and outer floral ruby bezel, completed by a ruby and diamond floret bail. The pendant is supported by an eighteen inch 14kt yellow gold designer chain. The main ruby gemstone is 15.90 x 14.20 x 6.80mm and weighs 14.78 ct.
Offered for auction in the watch category is Ladie's Tissot Crystal Watch. The watch is stainless steel with gold accents and crystal hour indicators. The Tissot company has been manufacturing timepieces since its foundation in 1853 and has always had its home in the Swiss town of Le Locle. For the men another fine example Swiss made precision and craftsmanship is the Rolex Men's Oysterdate Steelinox Watch. The watch is stainless steel with steel casing and a steel face.
For the numismatics or gold investors a rare coin offered in this auction event is a 1901 $5 Indian Head Gold Coin. The $5 Indian is one of two coins designed by sculptor Bela Lyon Pratt under the direction of President Theodore Roosevelt. The front of the coin features a proud Indian Chief in full headdress with the word "Liberty" inscribed at the top. The reverse features the bald eagle standing above olive branches. The coin is composed of 90% gold, 10% copper.
In the antique category a nostalgic piece is the 1920's Antique Herschell Carousel Horse. The fully restored piece is mounted on a brass pole stand for easy display. The white horse is hand painted with gold accents, a deep brown saddle, decorative pad and breast collar. The tail is a correct replacement. These antique carousel horses were made by the Herschell Company, in Tonawanda, New York. The company is well known for the quality and attention to detail in every piece made.
Additional auction highlights include a rare Crescent Upright Coffee Grinder, 1970's Coca-Cola Schwin Bike, 2001 Bentley Azure Convertible, Louis Vuitton Wallet and more.
To view this auction please click the link below
Historic Auction Event! Over 1,000 Items - Sunday, Dec 16, 2012 | 6:30 AM Pacific
http://www.liveauctioneers.com/catalog/35334_historic-auction-government-assets-sale/page1
For additional information on any lot in the sale, call Debbie on 661-823-1543 or e-mail info@governmentauction.com.
About Government Auction
Government Auction was founded as a general resource to buying assets such as jewelry , gemstones, memorabilia, collectibles, art, prints, antiques, and vehicles throughout the United States. Most people don't realize there are hundreds of thousands of assets and valuables that are seized everyday and made available through various resources. Many of these confiscated assets are passed on to us for immediate liquidation. Some examples of how we acquire requisitioned objects are from bankruptcies, IRS, estate sales, trusts, and more.
Government Auction is the largest company of its kind and the only one in the United States that works closely with these agencies to acquire literally thousands of assets and confiscated goods, such as Ruby Gemstones, Sapphire Rings, and Men's President Rolex Watches, Mercedes Benz, and Gold Coins. In most cases we acquire these treasures at a fraction of their actual retail value. Once acquired these items are liquidated through the auction site. Clients are made up of just the everyday person who wants to buy a Diamond Bracelet, Pearl Strand Necklace, Sterling Silver Pink Sapphire Earrings, Oval Cut Emerald Gemstone Parcel, Remington Bronze Reissue at an unbeatable price.
All assets that we offer are normally at a 30% - 60% savings to the client. What this means is consumers are making a good investment immediately. By purchasing assets cheaply people can make a sizeable profit if they decide to resell it later on.
Government Auction is one of the most reputable jewelry and gem clearinghouse company in the U.S., with over 20 years of experience.