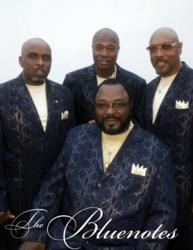 The "Blue Notes" sing music we grew up with...music we lived by...and even music my children enjoy!
Chicago, IL (PRWEB) December 13, 2012
Lovers of Music, Music & more Music, especially Soul Music, don't wait. This end of the year concert is presented by Wilkes Productions and DiVergent Music Group presenting the "Blue Notes" Revue at the Harold Washington Cultural Center in Chicago DEC 29th @ 7PM CT!
Not in Chicago? Can't Make The Concert? Philadelphia's Wilkes Productions and DiVergent Music Group have partnered with Chicago's Turner Online Presents. There will be a Live Internet Stream of this end of the year show utilizing their Live Web Stream capabilities which includes granted back stage access and impromptu interviews of the stars for the night for just $9.99. Additionally, one special feature of this concert is it's interactivity interwoven within the Live Web Stream. Participants in the "stream" will be acknowledged during several points in the show by name and geographical location adding to the delight of the participating live and streaming audience.
Starring one of the most successful R&B /Soul groups of our time, the "Blue Notes" Revue will perform their all time greats like, "If You Don't Know Me By Now", "The Love I Lost", "Wake Up Everybody", "Bad Luck" and many more of your favorite hits, and it is not to be missed!
Utilizing the power of the Internet, individuals can enjoy the concert in the comfort of their homes or workplaces with family, friends, workmates, or anyone! To globalize this event, invitations can be sent to Facebook, LinkedIn and other social network "friends" extending the concert to a global arena. Since their music has been enjoyed even in samples in popular music for decades, this Live Stream provides everyone with a piece of American musical history mixed with present day technology.
Wilkes Productions, located in Philadelphia, PA, has provided premium entertainment for decades. From its signature Big Beautiful Women Pageant, Plus Model Competitions, R&B OnStage Artists Showcase, Tribute to Philly Boxers, & Miss Princess Pageant, Dave Wilkes has been a fixture in Philly entertainment. The talented entertainer, Destinee Maree, the co-star of the "Sounds of Philly", is one of the artists Wilkes Productions promotes.
DiVergent Music Group , headquartered in Wilmington, DE and operating in Philadelphia, PA, exists as an Independent Record Label and Entertainment company ran by Wayne C. Smith, Sherri E. Jackson, Terry Fuller, & Emmanuel Scott. DiVergent Music Group provides numerous services such as recording, mastering, vocal training, sponsorship of producers, musical distribution, mentoring, & artistic development in addition to event promotion. Look for future endeavors from the DiVergent Music Group artists who have worked with producers such as Clarence Brown & Dennis Atkinson of Mastamindz Entertainment, DOEBOY, the winner of the IStandard producer showcase, emerging Philadelphia area producer M-Rrrr, the Grammy-winning team of David Frangioni, Jon Secada, Mark Hudson, Lucas Prata, and Rudy Perez and many more!
Wilkes Productions & DiVergent Music Group will be providing additional talent in the event, such as:
Co-star Destinee Maree – who performed at the Steve Harvey Hoodie Awards in Las Vegas, NV
Chicago's own William "Steel Bill" Payton and the "Soultry Men of Soul"
Vocal sensation Angelica Joni premiering her new smash hit "Best Thing"!
From American Idol – Josh "JCurtis" Arrington with his expressive vocal talents
The beautiful voice of Brittney Mone' singing your favorite soul filled hits
Also from Chicago, Tracee Adams and just added Motown's own - "The Funk Brothers"
All backed by EOS – "Expressions of Soul Band"
This concert and more events will be ongoing for all to see and hear. Expect future shows in all regions of the world, with varying artists. We want the audience to decide where and what appeals to you!
Also, watch for the anticipated debut of the Got Skillz? event! This will catapult the careers of talented singers, models, dancers, and more. Will it be coming soon to your state? To find out please Contact Us at the following:
Phone: 1-877-294-5537
Phone: 302-275-7019
Email: Info(at)DiVergentMusic(dot)net
Please like me on: http://www.facebook.com/pages/DiVergent-Music/127010544266
Please follow us on: https://twitter.com/DiVergent_Music
Please like me on: http://www.facebook.com/wilkespro
Please tweet me on: http://twitter.com/wilkespro