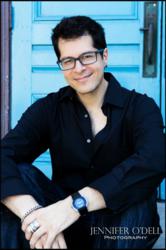 . "Dorothy's experience simply speaks for itself. She knows what it takes to succeed. I like her style. I'm thrilled about the great things that will happen with my business in 2013 with Dorothy!", says Marco
Los Angeles, CA (PRWEB) December 13, 2012
Mannfolk Public Relations is pleased to announce the recent signing of celebrity haircolorist Marco Pelusi, who is from the next generation of the Pelusi family of beauty entrepreneurs with a chain of upscale salons in the East Coast. Marco joins Mannfolk PR's select roster of fashion, beauty and lifestyle clients. The agency will be launching an extensive publicity campaign for Marco that focuses on his eponymous flagship studio in West Hollywood as well as his groundbreaking "Marco® Collagen Color Guard™ Hair Care System," a collagen-based line of products designed to nurture, enhance and prevent premature fading of color-treated hair.
Marco is a respected hair color authority and platform artist who has worked with several major international beauty companies seeking to establish his branding on a Nationwide scale. "Dorothy's experience simply speaks for itself. She knows what it takes to succeed. I like her style. I'm thrilled about the great things that will happen with my business in 2013 with Dorothy!" says Marco. Mannfolk PR intends to leverage its extensive reach to introduce Marco and his product line to a broader national market via strategic exposure throughout various media. With a full range of public relations services, Mannfolk PR has a sterling track record in helping develop emerging brands and turning them into household names and will undoubtedly do the same for Marco Pelusi.
ABOUT MANNFOLK PR Named by the industry's most respected publication Women's Wear Daily among its IT LIST of public relations agencies- Mannfolk PR has been responsible for helping launch many now-famous brands like fashion institution American Apparel. The agency has represented one of the country's foremost trendsetting retail stores American Rag, and was instrumental for branding international beauty sensation WEN hair and body care, created by top Hollywood celebrity hairstylist Chaz Dean. This full-service lifestyle boutique PR agency provides hands-on dedication and dependable personalized service with a custom designed campaign plan - from a strategic mix of placements in all media platforms to various special events including open house style lounges and fashion show productions.