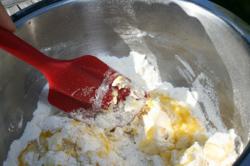 "with T'ART, you will have your family and friends coming back for more!"
Brookline, MA (PRWEB) December 13, 2012
Have the basics handy and amaze your family and friends as you pull off this easy and delicious dessert! Eggs and butter in the refrigerator and T'ART in the pantry can help you create a special treat without much effort at all. Here, Linda Amir shares her three baking tips for the busy hostess:
1. "Keep it simple with a eggs, butter and a bag of frozen berries– you just combine those and add to the prepared T'ART mix and 7 minutes later, the hard work is done."
2. "Be sure you have a pie plate, tarte or springform pan or any baking dish available—simply grease it lightly, add in the prepare batter with berries (fresh or unthawed frozen) on top—no mixing required!"
3. "Check your oven regularly to make sure it works the last thing you want is a surprise—which happened to me last Thanksgiving!"
There is something magical and inviting about the smell of a homemade dessert. And although most people are busy and don't have time or perhaps interest to fuss, T'ART is the perfect answer for anyone that's always on-the-go and has little time to prepare. Linda says, "with T'ART, you will have your family and friends coming back for more!"
About Amour Creations:
Created with a unique idea and a sweet tooth in mind, Linda Amir, founder and creator of the T'ART maker, set out to create the perfect baking mix that's quick, easy and delicious. An alternative to pies and cakes, T'ART is a baking mix that pairs "art" with "tart" and has been providing no-fuss sweet and savory tarts to customers for a little over two years. For locations on where to buy, visit http://amourcreations.net/find-us-near-you/ or purchase the mix online at http://amourcreations.net.