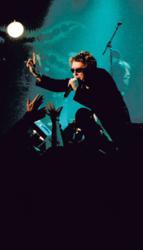 Napa, CA (PRWEB) December 14, 2012
If you were to dissect the alternative rock dominating today's music, you'll find that much of it pays homage to The Psychedelic Furs. Led by vocalist and songwriter Richard Butler, and his bass-wielding brother Tim, the Furs won over fans and critics alike by combining poetic lyrics, innovative rhythms and melodies driven by an aggressive, punk desperation. Through it all, the band scored major hits with "Love My Way," "Pretty In Pink," "Heaven," "The Ghost In You," and "Heartbreak Beat" in all releasing seven studio albums and spawning several compilations, a boxed set, and a live concert DVD.
Not sixty seconds into Beautiful Friction and it is clear; the haunting guitar of Jamie West-Oram, expressive synth of Rupert Greenall, pounding bass of Dan K. Brown, steady beat of Adam Woods and unforgettable vocals of Cy Curnin add up to the undeniable sound that could only be The Fixx. Apart, you couldn't refute their talent, yet it's together that they shine. Together, The Fixx has an incredibly strong voice, strong legacy and strong future.
By the mid-80s, the Psychedelic Furs had become a staple on both U.S. college and modern rock radio stations. Simultaneously, they were experiencing consistent mainstream success, placing several singles in the pop charts on both sides of the Atlantic. In 1986, the band recorded a sax-infused version of "Pretty in Pink" for the soundtrack of the film of the same name. Released as a single, it became their biggest hit to that time in the U.S., and their biggest- ever UK hit. On the heels of the successful soundtrack, the ban immediately recorded Midnight to Midnight, their biggest Top 40 success to date, but also a more overtly commercial effort than the Furs had ever recorded before. The album featured the single "Heartbreak Beat", which became the Psychedelic Furs biggest hit on the U.S. Top 40.
Beautiful Friction, the Fixx's tenth album studio album, finds the band sharper than ever. Never at a loss for what to say, Cy Curnin and company have the same thought-provoking intensity fueling their lyrics and performances as they ever have. Fired up and as hopeful as ever, the band continues to take us on a journey which started in 1982 with the release of Shuttered Room. Says Curnin, "There's a theme that traces through The Fixx. Our catalogue is connected, our viewpoint as a collective has always been socially driven. We've been so thankful to hear from people who let us know our music made a difference in their life. It made us realize we had a sense of responsibility to our audience, that our work as a band was unfinished."Tickets for Psychedelic Furs & The Fixx are $40. They are on sale now and can be purchased through the theatre website at http://www.uptowntheatrenapa.com, at Ticketmaster (http://www.ticketmaster.com) or at the theatre box office (please call 707.259.0123 ext. 6 for hours). To find out more, please visit http://www.uptowntheatrenapa.com.
The Uptown Theatre Napa is downtown's ultimate destination for live concerts. Nestled in the famed West End district, this stunningly restored art deco masterpiece showcases only the finest acts, featuring music, comedy and more. An historic landmark, the Uptown offers a phenomenal, intimate live show experience, with excellent site lines and world class sound and lighting. As concert venues go, this is the place to be. Every seat is a great seat so [buy concert tickets now!