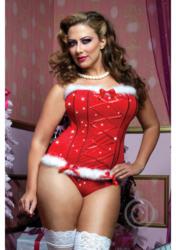 While women love lingerie, it shouldn't be the only gift at Christmas.
(PRWEB) December 14, 2012
Lingerie can be such a fun item to shop for. The typical guy tends to shop with their eyes while imagining the anticipation in the bedroom. While women tend to shop to impress their guy. Following are a few tips customers can consider while shopping for lingerie for the holiday or for any time.
While women love lingerie, it shouldn't be the only gift at Christmas. Try not to choose solely based on what she will strip down to. Take some time to check out the current lingerie to see what size is needed and what styles she already has. Choosing lingerie from an online store such as OurPleasureBox.com will provide a great variety and lingerie that is very beautiful and a large selection of sizes included plus sizes. Fine lace in black is hot, as are the colors burgundy, teal and red. Think outside the box and consider items for role play to provide variety in the bedroom.
Ladies, do not assume the guys do not want to look good too. They just do not feel comfortable discussing it. Just as lingerie makes you feel better about yourself, well, he too will feel good about himself when he is given attractive lingerie. Perhaps the way to a man's heard is through the bedroom rather than through the stomach. Lingerie makes a great personal gift. Take the time to make it personal.
Christmas does not have to be the only time for lingerie. Lingerie is a great gift for weddings, baby showers, birthdays and anniversaries and of course, lingerie is a great gift just because. Spend some time searching the lingerie at online stores like OurPleasureBox.com and find that special gift to fill your very own pleasure box.