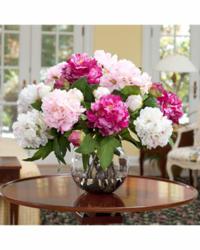 Not only are our designs stunning and affordable … they make life easy! No fuss, no mess.
White Plains, N.Y., December 17, 2012 (PRWEB) December 19, 2012
Silkflowers.com is pleased to announce its Spring 2013 collection. These stylish designs make it easier than ever to add spirit-lifting color and flair to the home.
"Not only are our arrangements stunning and affordable … they make your life easy!" Tim Hennessy, co-founder of Silkflowers.com, said. "Think of the time people spend every spring arranging fresh cut flowers in vases, then changing the dirty water, removing the dead stems and re-cutting the remaining stems – just to keep them acceptable in appearance for only two more days – and cleaning up fallen petals and leaves. Our quality silk creations eliminate all of that. Simply order them online and prepare to enjoy instant color and style for years to come. Display them seasonally or year-round."
Highlights of Silkflowers.com's Spring 2013 collection include: The new Lily Centerpiece, a striking bouquet of supple lilies in a shapely glass vase ($219 large; $149 junior); a new and unique white amaryllis bouquet in a modern glass cylinder vase ($149); and a new classic tulip nosegay (a clear glass vase of nine for $115). Returning favorites include a chic line of orchids ranging from $35 to $269; stunning long-stem calla lilies in yellow or white (a 14-inch tall silver banded vase of 10 blooms for $139); a magnificent line of hydrangea accents and centerpieces ranging from $39 to $239; a variety of rose accents (a clear glass vase of two open buds for $35) available in seven colors; and the Succulent Oval Platter, a shapely round ceramic dish full of favorites such as aloe, jade, echeveria and sedum ($149).
"Our artificial flower arrangements make the ideal Mother's Day gift as well," Hennessy added. "Why give Mom fresh cut flowers that will last only a week at best – plus they'll make her work to keep their water fresh. Mom does so much for us already; give her a break this year and surprise her with a lasting reminder of your love. Our silk creations require zero maintenance and look beautiful for years."
Gifts purchased from Silkflowers.com are shipped directly to a loved one's doorstep. And like all Silkflowers.com products, they're expertly packaged to arrive in perfect shape for easy display right out of the box (unlike fresh cut flowers that are often dead by the time they arrive). They're adorned with a stylish gift card, too, that may be personalized with a message of choice.
To view the entire Silkflowers.com Spring 2013 collection, please visit http://www.silkflowers.com/seasonal-collections/spring. High resolution photography is available at http://www.silkflowers.com/pressroom and upon request. Silkflowers.com is also on Facebook and Twitter and has a blog, http://blog.silkflowers.com.
Silkflowers.com is the nation's largest supplier of designer-quality silk botanicals, including floral arrangements, decorative stems, plants and trees. The company proudly offers the widest selection and inventory of beautifully designed silk creations at affordable prices, delivered directly to consumers with utmost care. Silkflowers.com's sister company, OfficeScapesDirect (http://www.officescapesdirect.com), serves the commercial market in the same manner, offering the widest selection anywhere of designer-quality silk botanicals for business interiors and commercial spaces. Both companies are located in Cincinnati, Ohio, and White Plains, N.Y.